Kevin Durant On D.C. "I Really Just Didn't Want To Play At Home."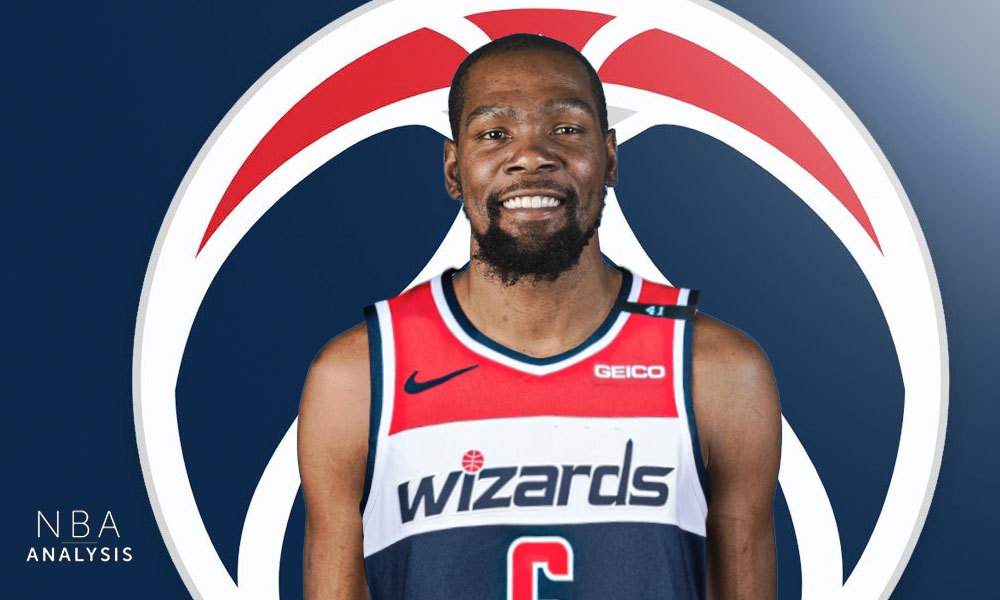 As a kid, Kevin Durant would hop on Metro and travel to new worlds. He started in Prince George's County, where his family bounced from rental to rental, all over the county, until moving became familiar. He would see abandoned houses, drug deals and people lingering outside the liquor store. "This was our life," Durant said. "It wasn't bad, but it's all we knew."
His godfather would take him on the train to Virginia, to practice basketball on Crystal City courts. Everything was different. Peace and quiet. No sirens. Nice houses. Man, Durant would think. If I make it, I want to do this. I want to live here. I want to get away from that, and show my family a better life. The trips, on a small scale, instilled in him a directive: To lift his family and honor his home, he would have to leave.
"It felt like if I made it to Virginia, I made it in life," Durant said late last week in an interview with The Post. "You know what I mean? "It kind of gave me both ends of the spectrum. I appreciate that about our area, you know? There's so many different pockets, and such a huge culture and you see both sides. I used that as motivation as well to make it where I am today."
When LeBron James returned home to Cleveland in free agency during the summer of 2014, the decision kindled in Washington fans — and perhaps even Wizards officials — the "KD2DC" movement, and with it the fantasy of Durant making a similar move. But those thoughts quickly dissipated. Six teams met with Durant in the first few days of July to pitch him on the prospects of joining them in free agency. The Wizards weren't among them.
When Durant plays at Verizon Center on Tuesday night as a Golden State Warrior, with an enormous tattoo spelling "Maryland" still inked across his shoulders, it will evoke two of the forces that shaped his life and colored his choice: an abiding love and appreciation for where he grew up, and an ardent need to expand himself beyond it.
"I don't want to open up anything in the past, but I really just didn't want to play at home," Durant said. "It was nothing about the fans. Being at home, I was so happy with that part of my life — playing at home, being in front of friends, hanging with friends and family every day. That was a part of my life that has come and gone.
"I was like, I'm trying to build a second part of my life as a man living in a different part of the country, just trying to do different things. I did everything I was supposed to do in the D.C.-Maryland-Virginia area, I felt. Now it's time to do something new. I didn't want to come back. That's just my thought process behind it. It had nothing to do with basketball, the fans, the city.
"It was just like, 'All right, that part of my life I've conquered already. What's next?'"
'He carries that on his back'
From a young age, the Washington area shaped Durant. He learned to play during endless sessions at Seat Pleasant Rec Center, under his godfather Taras Brown, the coach who ran the facility. Brown taught Durant the jab step and teamwork, shooting form and leadership. He showed him film of Billy Owens and, later, Tracy McGrady. About once a week, Durant would finish drills and run up a hill around the block from the center, maybe 50, 60 times, often while his mother, Wanda, read a book in a car waiting to pick him up.
"I was a tall, lanky kid with a dream, and I just kept working," Durant said.
Russell Springmann, then an assistant coach at Texas, first watched Durant as a sophomore at National Christian. Years later, Springmann would name his firstborn son Durant and tell Kevin, "If he is half the man you are, we will be amazingly blessed as a parents." When he first came to know Durant as a teenager, Springmann wondered if he could convince Durant to travel all the way to Austin for college.
"The first time I talked to Kevin's mom, I asked her about distance," Springmann said. "Kevin's brother had gone away to go to high school in Kansas. She said, 'I just want what is best for my boy.'"
The pull to leave Washington was even stronger than Springmann realized. Even at 17, Durant viewed basketball as a vehicle to broaden his world.
"I wanted to get out," Durant said. "I didn't want to be around. No disrespect to anybody back at home, but my mom, she wanted me to see the world. She wanted me to see a different part of the country, and she didn't want it to be a quick flight, either. She didn't want anybody to be able to just get ahold of me."
The choice came down to Connecticut, North Carolina and Texas, and Texas stood out. He had never been so far from home, and the differences "opened my eyes to a new world," Durant said. He had never thought about the world being larger than Virginia. Before Durant went to college, Durant's mother had never flown on an airplane. The experience changed his perspective on the world, and his place in it.
"He knew he had to leave to go represent for where he's from," said Justin Zormelo, a trainer and close friend of Durant's. "I know he carries that on his back."
Zormelo met Durant after his one year at Texas, as he prepared for the 2007 NBA draft. Zormelo, a former manager on Georgetown's basketball team, was starting Best Ball Analytics, his training business to prepare players physically and mentally. They bonded over their local connection.
"We could relate to go-go or Howard homecoming or whatever it was," Zormelo said. "We had a connection through the culture of basketball here."
Durant helped build the professional sporting culture in Oklahoma City from scratch while turning Oklahoma City into a second home. As he became the Thunder's unquestioned face, Durant opened restaurants and donated $1 million to victims of a flood in the area. Durant also continued to explore, splitting offseasons between Los Angeles and Miami — with the occasional swing home, which often included donations to the Seat Pleasant Rec Center.
Before Durant suffered a Jones fracture in his right foot, he appeared a few times each summer in the Goodman League, the outdoor basketball showcase in Southeast Washington, where he had honed his skills throughout high school.
"He'd come sit in the crowd or sit next to me and sign autographs, sit around for a bit," said Miles Rawls, the commissioner who also serves as the staccato-voiced soundtrack. "The fans loved it. I loved it. It was big for the city. They treated him like an ordinary Joe."
Trips home, though, also meant challenges. As Durant became a global star, one of the best players in the world, acquaintances both close and distant sprouted, all wanting something. Games at Verizon were a mix of hectic and cherished.
"With any athlete, when they're playing in their hometown, there are advantages and disadvantages," said Stu Vetter, Durant's coach at Montrose Christian, responding to a question about Durant in general terms. "The disadvantage is, everyone becomes a very good friend very quickly. Your time is in great demand. Your resources are in great demand. And everyone wants a favor."
While Durant built his career, it sometimes demanded distance from home. Rawls, a Wizards season-ticket holder, knows Durant through basketball, but not personally. He tries to keep in touch regarding league matters, but has difficulty reaching him. When Durant plays at Verizon Center, Rawls tries to convince Durant to share his phone number.
"I get on him about that," Rawls said. "I said, 'I'm one of the guys that's supposed to have your number. I'm not one of them guys that's going to call you asking for stuff. I'm supposed to have your number on my speed dial, not having to go through 'Tom, Dick and Harry.' "
Durant still would not give Rawls his number. "But he's a good kid," Rawls said. "He's got a lot on his shoulders."
'I thought about it'
The Washington area remains close for Durant. He is a die-hard Redskins fan, one who lives and dies with every snap. (He believes Washington should sign Kirk Cousins long-term. "Oh, man, I love Cousins," Durant said. "I think he is the future for us.") As a kid, Durant would visit his aunt's house near FedEx Field. He could hear the crowd on fall Sundays.
It still matters to Durant to hear from home. Durant's profile helped Best Ball Analytics grow, and he and Zormelo remain friends, Zormelo having picked up several other NBA stars as clients and moved to Miami to grow his business. This month, Zormelo attended Durant's homecoming in Oklahoma City, knowing that a face from home would ease Durant on an emotional night.
"I just wanted to make sure he knew I was there," Zormelo said. "Honestly, I wanted to make sure D.C., Maryland and Virginia was there. I'm not just saying that. People don't understand, part of basketball, when you're living in other cities — you live in Oklahoma City, you live in [Oakland] — you're by yourself. You got people back home rooting for you, pulling for you, and that's where it started. That means a lot."
Durant, in ways literal and figurative, is further from home than ever before. He makes fewer return trips, spending more time in Los Angeles and Miami in summers. He used to play in the American Southwest; now, he lives in the Bay Area. When James went back to Cleveland, it put the idea in Durant's head — but only for a moment. So, too, did the idea of playing in front of his grandmother — though that, too, drifted quickly when he realized she would never allow him to do something his heart wasn't fully committed to.
"I thought about what it might be like," Durant said. "I thought about it. But it made LeBron's situation different because he got drafted there. So it was like he was home already, so he knew what it was like. It wasn't like it was his first time going back. For me, I never played at home. I didn't know what it would be. I know every time I go back it's pretty hectic, and I just wanted to focus on basketball and not have to worry about a lot of stuff that comes with being at home.
"It's always good going back, but I would rather play in a different city."
Durant left his hometown to become a man, but the past is still part of him. He does not visit as often as he once did, but when he does, he often experiences a reminder of the dreams he once had, that he really has made it. He stays in Crystal City, near a Metro stop in Virginia.