The DMV Daily Interviews: Takia "Tizzi" Green, Director of Word Warrior III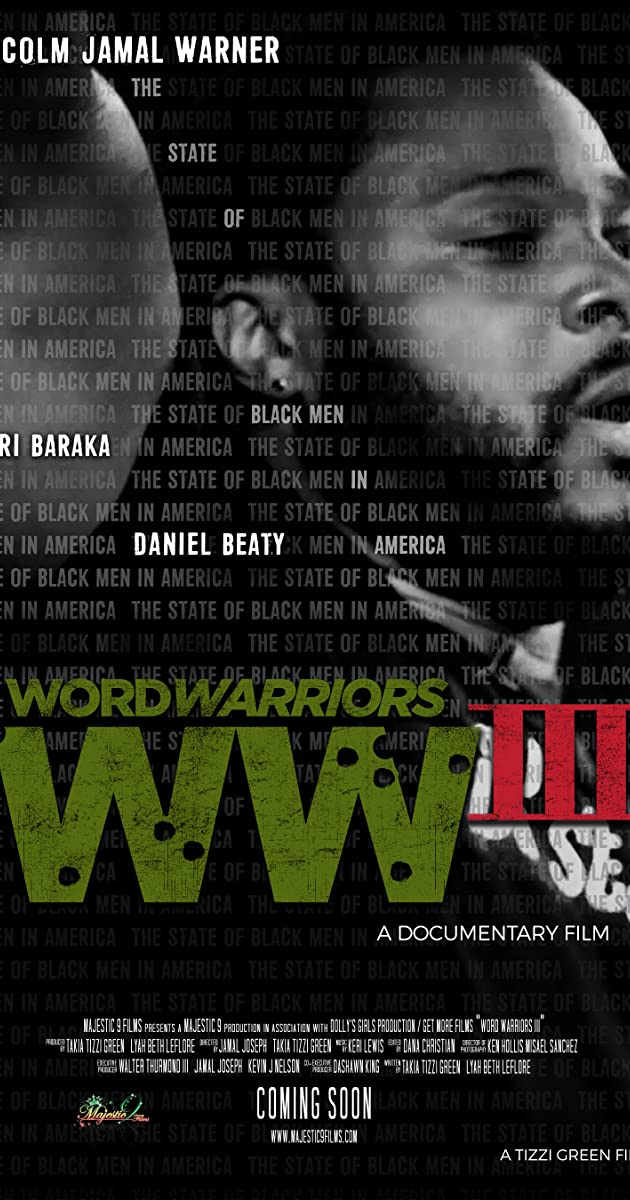 We have the pleasure of speaking with Takia "Tizzi" Green, the director of the new documentary series Word Warriors III, starring Malcolm Jamal Warner, which was released on Juneteenth (June 19th). Word Warriors III explores the circumstances of young African-African men who are poets, activists, and educators, as they explore the concept of using one's words a weapon instead of guns and violence.
A number of the men featured in the film spoke wisdom from a historical point of view, as they played a role in the Civil Rights Movement and have long-standing experience with fighting racial injustice by using their words as weapons. Word Warriors III is not your ordinary documentary; it is a call for action to end the cyclical epidemic of self-destruction that has been used against people of color and black men in particular.
Living in a country built on oppression and white supremacy is very sickening, especially since we are in the year 2020, and history is continuing to repeat itself. Since slavery, the Black community has used the power of words as a weapon to explore freedom through their art of song, poetry, writings, protest, and speeches to heal and continue to push the culture forward.
Word Warriors III is a documentary that highlights the power of words. We often use the word as a source of healing by using our words as a weapon of peace vs. guns and violence. Harmful disparities that affect the African American communities such as an unjust criminal justice system, lacking educational system, poverty, police brutality, senseless murders,
We must make a change using the most powerful tool that we have, which are our words.
---
Q: What is your name, and please tell me about yourself?
Tizzi: My name is Takia Green, but everybody calls me Tizzi. I am a filmmaker, director, producer, writer, and music composer. I am from South Central, Los Angeles. I grew up in the hood, but was fortunate enough to receive a once in a lifetime opportunity to work in the industry at Sony Pictures, and I've been going ever since.
Q: How did you receive the opportunity to direct "Word Warriors III"?
Tizzi: Being in the industry where I have worked on many major stories, it's rare for people like myself to share our story on film. Being an independent filmmaker, I wanted to make something that was raw and authentic, so I created the opportunity for myself. I don't know if it would be made this raw if it had been produced through a major studio. Jamal Joseph, another director of the film, and I had a vision, and we came together to bring it to life.
Q: After directing the film, what would you say had to be the triggering moment that inspired the creation of the film.
Tizzi: The triggering moment for me was when I heard Pat Justice's Innocent Criminal Poem. He and I grew up together in the same neighborhood, so I was familiar with his story and was able to feel his pain. When I heard that poem, I just knew I had to create a platform for his story to be told and to share the inspiration behind the poem. Originally the film was based around Pat Justice's life. During the midst of filming in 2012, Trayvon Martin was murdered. His death kind of changed the direction of the film. It inspired me to make it broader, and touch on the state of black men in America. Even though Pat Justice's original story reflected that, I wanted to go more in-depth about how we got here, how the system is set up for us to fail, and how we should go against that system and heal from that pain. In black households, fathers are typically absent from the house because they were taken away from us and put in jail; it's a domino effect. After you watch the film, you will understand more about why that was the trigger that inspired me to write the movie.
Q: The words we used to fight oppression back in the day, do you think it can be beneficial today? If so, how?
Tizzi: Absolutely! Historically speaking, words help set the tone for the freedom that we live in today. For example, Dr. Martin Luther King Jr.'s I Have a Dream speech – those words that he projected on the monument that day is our way of life today. He wanted white and black children to play and go to school together. Certain words that he said we are actually living today. He dreamed it; He believed it; He spoke it into existence. That's the power of the word, and today it is imperative that we speak words of life, love, and justice because that is what will be beneficial to the future generation.
The words that we speak today will benefit the next generations to come, just as King's words did with us. Even when it comes to protesting, when we are chanting "I Can't Breathe," we are going to continue to see those words reflective in our reality because we are projecting those words into the world. I understand the gesture behind it, but have to be mindful that we are anticipating those words into the universe to manifest. Instead of saying, "I Can't Breathe," perhaps we should say "I Will Breathe." For instance, George Floyd and Eric Gardner, those situations wouldn't happen because instead of saying "I Can't Breathe," we're saying "I Will Breathe'. Those are examples of the power of the words we are putting out there. Instead of saying, "No Justice, No Peace," we need to say, "Justice is Peace." We have to change our words to change our reality. The power of the word is real. If we shift our words to positive ones, then the future generations will live to see another day; they will live not to have to face police brutality. They will live to see a society of justice for all. I think that the words we speak today will reflect our tomorrow.
The documentary is available on DVD (available online at Target, Walmart, and Best Buy), On Demand, Google Play, YouTube Movies, and other movie streaming platforms. Check out the trailer down below.