Washington Nationals get win over New York Mets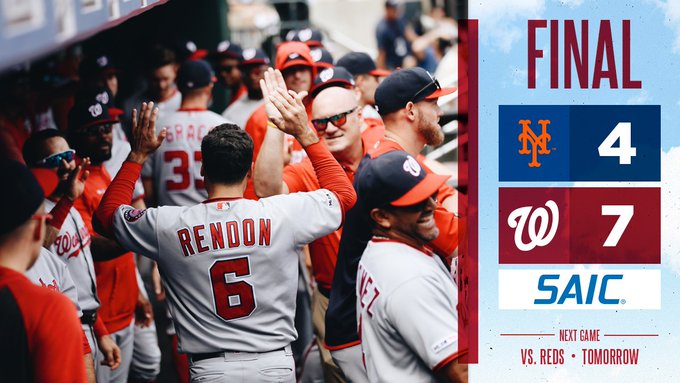 After losing the first two games of their three game series with the New York Mets, the Nationals bounce back getting a 7-4 win to conclude the series. The win improves the Nationals record to 62-55 and lifts them a game and a half ahead of the Mets in the NL East division while also snapping the Mets eight game win streak.
The Nats got off to a fast start scoring three runs in the first inning off a throwing error by the Mets. The Mets bounced back scoring three runs of their own in the second inning.
The next points would not be scored until the seventh inning where the Nationals outscored the Mets two runs to one making the score 5-4 with the Nationals leading.
The Nats would score the final two runs of the game in the ninth inning off a two run home run from centerfielder Victor Robles.
The Nationals will start a three-game home series against the Cincinnati Reds tomorrow evening.
🗣️ PUT A #CURLYW IN THE BOOKS!

FINAL // #Nats 7, Mets 4 pic.twitter.com/dysAEaqRx7

— Washington Nationals (@Nationals) August 11, 2019