Washington Nationals win Wild Card game advance to NLDS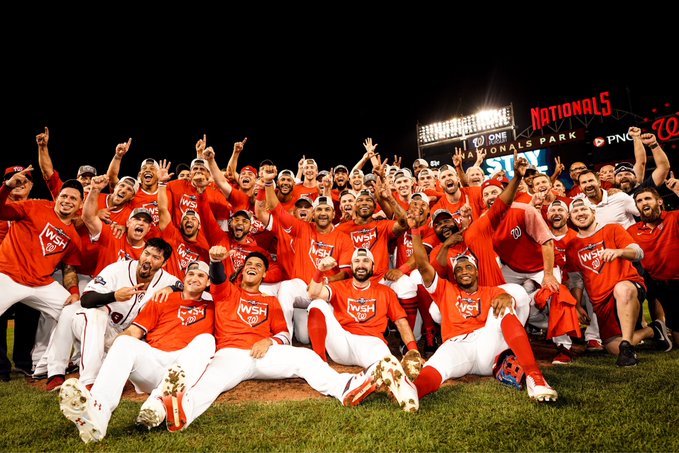 In their first Wild Card appearance since 1981, when they were the Montreal Expos, Washington Nationals escaped with a 4-3 win over the Milwaukee Brewers to advance to the National League Division Series. The win continues their win streak from the regular season extending it to nine games.
The Brewers got off to a hot start scoring three runs through two innings of a two-run home run from catcher Yasmani Grandal and a single-run home run
Other than a third inning home run from shortstop Trae Turner, it was a struggle for a Nationals well-renowned for their batting prowess. Nationals lead hitter Anthony Rendon got no hit in three at bats and his only time on base was off a four ball walk.
Pitching was also a struggle for the Nats namely from pitcher Max Scherzer who through five innings pitched allowed four hits and the Brewers three runs in the game.
Scherzer was relieved by Stephen Strasburg in the sixth inning where he pitch three scoreless innings allowing just two hits and struck out four batters. Through all this, the Nats were still unable to put any runs on the board that is until the eighth inning.
In the bottom of the eighth inning with the bases loaded and 20-year-old leftfielder Juan Soto in his first postseason appearance up to bat. There he would hit what would turn out to be a game winning three-run double to right field to give the Nationals a 4-3 lead.
We think we can tweet videos again so here's Juan Soto's game-winning hit and OH MY GOODNESS IT'S EVEN MORE INCREDIBLE THAN WE REMEMBERED.#ChildishBambino // #STAYINTHEFIGHT pic.twitter.com/iBCkc7hUaJ

— Washington Nationals (@Nationals) October 2, 2019
What a moment. #JugamosDuro pic.twitter.com/EaCejnXAjh

— MLB (@MLB) October 2, 2019
Three forced outs in the ninth inning later and the Nationals were winners now headed to Los Angeles to face the Dodgers in the NLDS.
In the regular season, the Nationals and Dodgers faced off seven times with the Dodgers winning the series four game to three. The two teams split a four game series at Dodger Stadium from May 9-12 and at Nationals Park the Dodgers won a three game series two games to one from July 26-28. It was the Nationals first loss in a series in a month stopping and eight series win streak for the Nats.
These two teams previously met in the NLDS in 2016 where the Dodgers would take the series three games to two.
The Nationals are looking to advance to just their second NLCS in franchise history their first coming under the Montreal Expos banner in 1981.
The series between these two teams will begin this Thursday evening from Dodger Stadium.
.@Nationals fans, you deserve this one. pic.twitter.com/H3DG5DfIHW

— MLB (@MLB) October 2, 2019
What a comeback for the @Nationals.

Next stop: LA. pic.twitter.com/qvayoVrsHH

— MLB (@MLB) October 2, 2019