Washington Nationals take a 2-0 lead in NLCS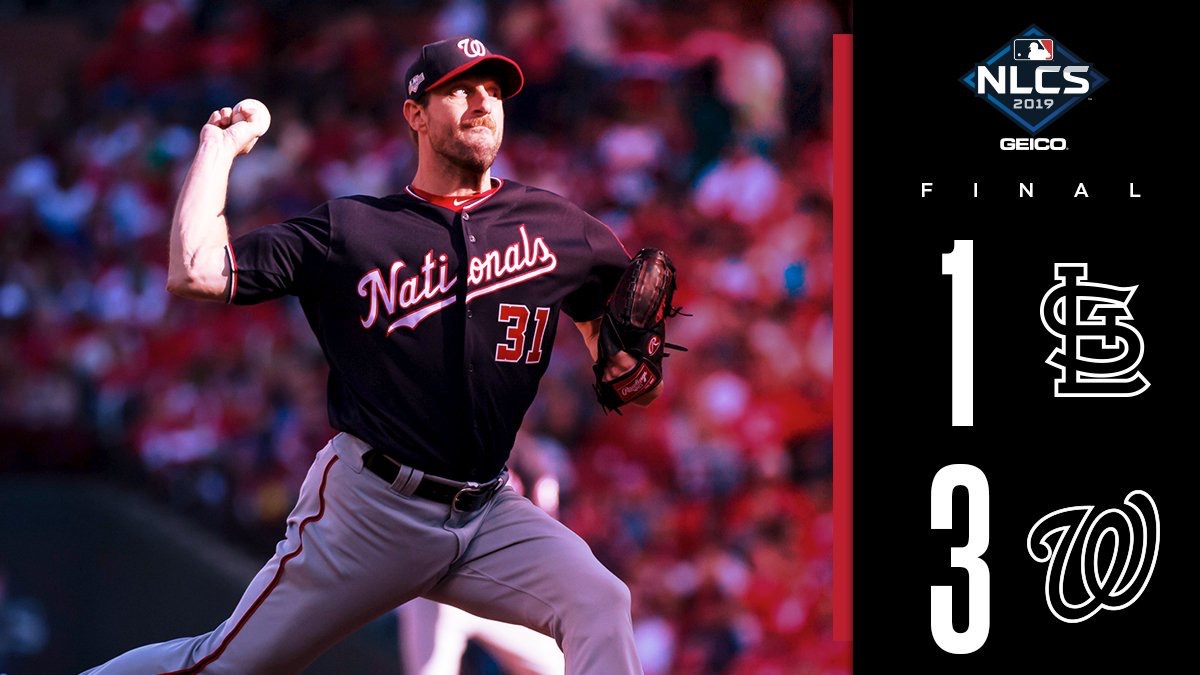 With a 3-1 win over the St. Louis Cardinals, the Washington Nationals have now taken a 2-0 lead in the series winning both games on the road. This is just the second time in franchise history that the Nationals have taken a 2-0 series lead in a postseason with the only other time coming in the 1981 NLDS against the Philadelphia Phillies when they were the Montreal Expos.
Nationals pitcher Max Scherzer played terrific striking out 11 Cardinals batters allowing just one hit in seven innings pitched. The Nationals bullpen overall only allowed three hits all game and one run coming off a double from Cardinals place hitter/rightfielder Jose Martinez.
Max Scherzer has 93 career regular season games with 10+ Ks.

(More than any active @MLB pitcher.)

Today is his 4th career #Postseason game with 10+ Ks.

(It's the 6th inning.)#Scherzday // #STAYINTHEFIGHT pic.twitter.com/Br7CfrZdFM

— Washington Nationals (@Nationals) October 12, 2019
It was more of a struggle for Cardinals pitcher Adam Wainwright who in seven innings pitched allowed seven hits and committed three errors in the game. Wainwright did, however like Max Scherzer, struck out 11 batters for the Nationals.
The Nationals batters had seven hits in the game scoring three runs that included a third inning home run by centerfielder Michael Taylor and an eighth inning two-run RBI double by rightfielder Adam Eaton.
Taters gonna tate.

END 3 // #Nats 1, Cardinals 0 pic.twitter.com/DFDn3CbmoK

— Washington Nationals (@Nationals) October 12, 2019
BRING. US. YOUR. POTATO. EMOJIS.

Michael A. Taylor launches one to LF to give us an early lead!

And now … WE DANCE! pic.twitter.com/lDcfj1T6T2

— Washington Nationals (@Nationals) October 12, 2019
As the series shifts back to Nationals Park, the Nats are now two wins away from an appearance in their first World Series in franchise history. Since September 23rd, dating back to the beginning of a five game home series against the Philadelphia Phillies in the regular season, the Nationals have won 10 of their last 11 home games.
Game three between the Nationals and Cardinals will shift to Nationals Park taking place Monday evening.
Thank you, thank you for having us, STL.

Time for a happy ✈️.#NLCS // #STAYINTHEFIGHT pic.twitter.com/mTSQGMNJvk

— Washington Nationals (@Nationals) October 13, 2019