A Healthier You Inc. Presents "The Ultimate Self-Care Sunday"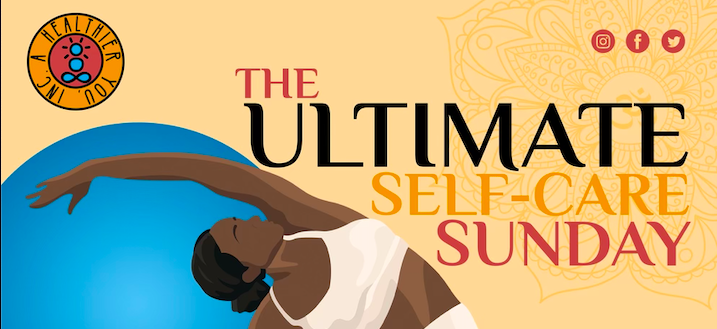 A Healither You, Inc will be hosting its first annual event this weekend, The Ultimate Self-Care Sunday, which will be filled with many activities and workshops centered around all facets of health. Attendees will have the chance to network and practice self-care while enjoying a nice brunch and panel discussion. The organization strives to provide individuals and communities with a sense of desire to create a healthier version of themselves. We had an opportunity to chat with Ma'Sheka Thomas, Founder of A Healthier You, Inc. to learn more about the organization and its upcoming event!
Q: Can you tell us more about your background? 
Ma'Sheka Thomas: Of course! Thank you so much for having me. I got interested in health because of my own personal experiences. In 2018, I was experiencing hives breakouts that were unbearable. I ended up visiting a physician to identify the root cause, which was determined to be stress. It was so severe that I was prescribed medicine for stress management. Yet, I had a different approach in mind. I'd recently been introduced to yoga and wanted to give that a try, a holistic outlook to tackling stress. 
What started as a stress reduction method went above and beyond my expectations! Not only did practicing yoga curb my breakouts, but I also fell in love! While practicing for six months, I then signed up for yoga training so that I could learn more about this holistic health tool and how to better share it with others. I feel that I have found my true purpose. I am able to be a light through yoga, leading people to tranquility, serenity, and healing. I've been a practitioner at yoga studios,  rehabilitation centers, gyms, and in residential and community spaces.
I want my students to know that anyone can come to yoga. It doesn't matter if you don't think you're strong or flexible. Yoga allows you to get in tune with your body and be connected in ways you wouldn't imagine.
Q: What inspired you to start your nonprofit organization, A Healthier You, Inc.? 
Ma'Sheka Thomas: Being in my community and providing psychosocial support groups, I noticed that many people were extremely stressed, to the point that they truly didn't know how to relax. As I continued my yoga journey, I realized that the people I was helping did not know about this one thing that was changing my life. Working in the community, I centered the topic on the benefits to your mental and social health. My personal view is that we can help others create healthy lifestyles by providing them with the tools, knowledge, and resources on mental, financial, physical, emotional, social, and spiritual health while also introducing them to yoga and meditation to help them retain the information, learn more about themselves, and ultimately reduce stress. 
Q: For those that haven't heard of the event yet, can you tell us more about The Ultimate Self Sunday? 
Ma'Sheka Thomas: The Ultimate Self-Care Sunday is an event that provides adults with tools and resources to help address the stress and anxiety they are feeling in their life. This event will provide people with the opportunity to practice yoga and meditation, receive information on resources and tools from health experts, connect to others within the community, eat nutritious food, connect with their emotions through journaling, and ultimately have a great time tending to the self properly in a way that benefits them moving forward. The topics we will be discussing are helping individuals create and maintain a healthy lifestyle, leading to less stress, anxiety, and depression, and greater happiness, balance, and positive outcomes. 
Q: How will the Ultimate Self Care Sunday and your organization address the whole health of an individual? Why is that important? 
Ma'Sheka Thomas: We will address mental health, emotional health, social health, physical health, and spiritual health by offering breathwork, meditation, yoga, and conversations on holistic health from expert speakers, including, nutritionists, therapists, physical trainers, and herbalists. It is important because although the tools and resources are available, many individuals within our communities are not aware. We wanted to present the community with the tools, resources, and knowledge to help them achieve optimal health via awareness of self and nearby assistance options. Many people don't know where to start with their self-care and health journeys, and we're here to help with that! 
Q: What makes your event stand out from other health events in the area? 
Ma'Sheka Thomas: The Ultimate Self-Care Sunday combines all facets of self-care into one day. Brunch, snacks, meeting new people, practicing yoga, moving your body, receiving sound healing and guidance from practitioners, access to great vendors, giveaways, and more. 
Q: What can attendees expect from their day at the Ultimate Self-Care Sunday? 
Ma'Sheka Thomas: Attendees can expect a full day of fun, self-care, and self-love! From physical and mental health to emotional and financial health, USS is providing critical education and insight into maintaining good overall health and life balance. Attendees can also expect to feel encouraged and inspired, make new connections, and shop with some amazing vendors! 
Q: How can people find more information about the event, including registration and fees? 
Ma'Sheka Thomas:  Visit the event page on our website Event Details — A Healthier You, Inc. (ahyinc.org). The event is on Sunday, November 6th, from 10 AM – 3 PM. The cost is $50 for general admission and $99.00 for a VIP ticket. 
Stay connected with A Healither You, Inc. on social media! 
Instagram: https://www.instagram.com/ahealthieryouinc/
Facebook: https://www.facebook.com/ahealthieryouinc
Twitter: https://twitter.com/ahyinc1