"A Woman's Love" An Electrifying Stage Play Coming to Bethesda Blues and Jazz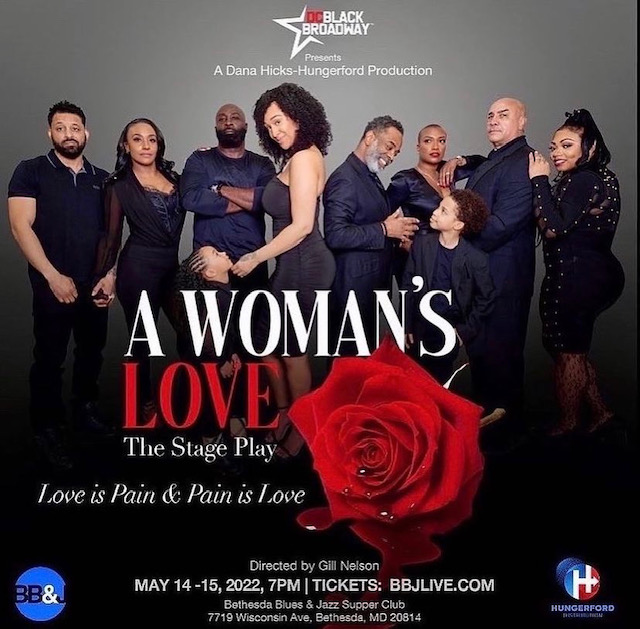 The stage play "A Woman's Love" is coming to Bethesda Blues and Jazz Club May 14 -15. With May being mental health awareness month the play is timely and will shine a light on mental health. Written and produced by Dana Hicks Hungerford, the story line focuses on dealing with mental health and not ignoring or brushing it under the rug anymore. This stage play is the first under the Residency of DC Black Broadway at Bethesda Blues & Jazz Supper Club and Dana Hicks Hungerford is the first female playwright under their Residency.
For years there has been a negative stigma about mental health or seeking help when at times, it is harder to pick yourself up. Dana a native Washingtonian, wrote this stage play with the intentions of saving lives and bringing more awareness to mental health. Dana's goal is to continue to make people from all walks of life understand that mental health issues are a serious global issue. Race, gender, ethnicity and background are non-factors when it comes to mental health and how impactful it has and will continue to be. Dana is passionate about her craft and this play. She wants everyone to know, "I put my heart and soul into this story, mental health is such an important topic that we need to continue to explore and discuss."
The play is an emotional roller coaster that explores the idea of one person seemingly having it all, to the realization that lies and deception from people that are the closest to you can happen to any of us. The character Angela's journey will show us just how powerful women can be when hit with so many different issues like dealing with one's own mental health, trying to balance work and marriage and overcoming obstacles that seem
insurmountable.
The play will be at Bethesda Blues and Jazz club on May 14 -15 Tickets are on sale now at BBJC You don't want to miss A Woman's Love.
May 14th Show Tickets: Click Here For Tickets
May 15th Show Tickets: Click Here For Tickets
---
About Dana Hicks-Hungerford:  Dana Hicks-Hungerford is an American playwright, actress, entrepreneur, philanthropist and community advocate. Dana is a native Washingtonian, a devoted wife, mother, daughter, big sister and aunt to nine nieces and nephews. She is the Co-Founder of Hungerford Distribution & the Director of Marketing for Hungerford Real Estate and Development. Dana is also an actress as seen on TV One, ID Channel, and the Boss2 Movie on Amazon Prime. With a knack for creativity and starting businesses Dana co-founded the "Official Bag Ladies." Her bag line is called "YOU MAKE THE BAG." The message is hand painted on a variety of different style purses. Dana is the creator and visionary of the brand. The brand was created to remind people everywhere that YOU MAKE THE BAG, the bag does not make you.
Contact: Renee Kelly • ReneeKellyPR@gmail.com