Dope Black Girls Brunch Celebrates 5 Years of Honoring Black Women in Media and Politics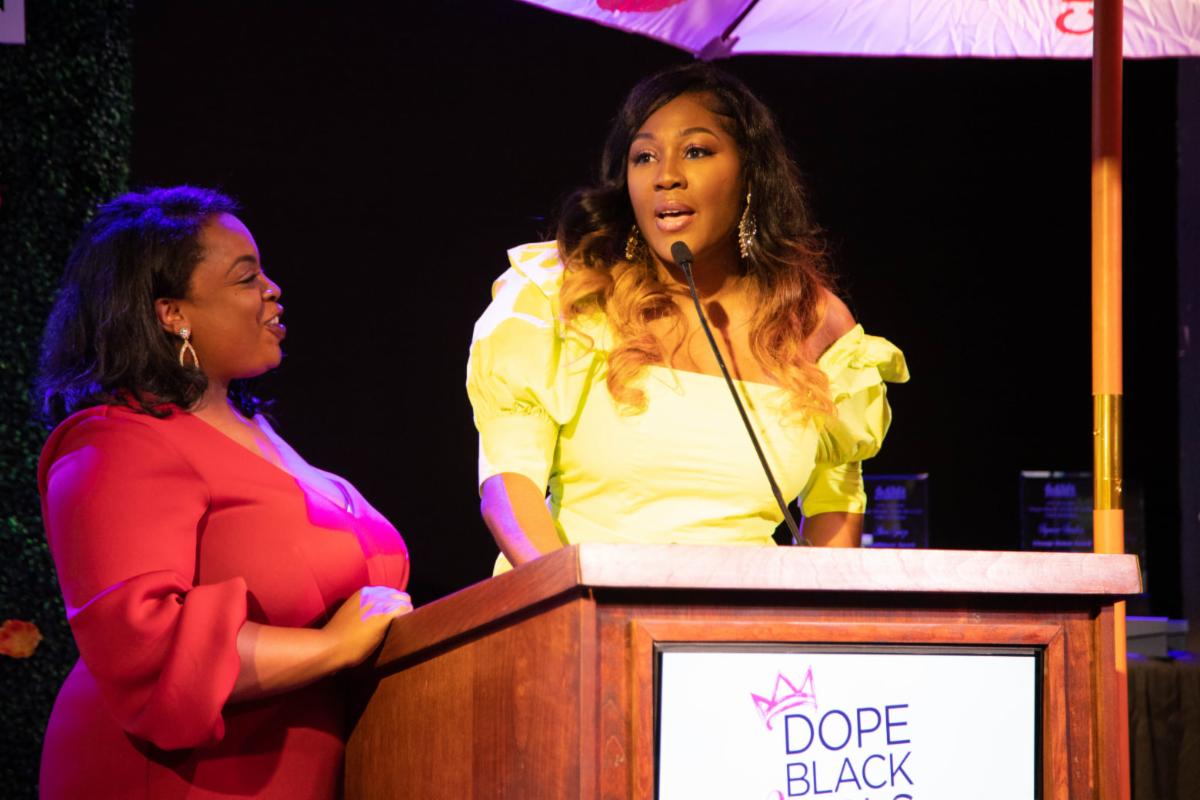 For five years straight, Black Girls Vote and Color Vision have hosted Dope Black Girls Brunch as an extraordinary day of honoring Black women who are innovators in politics, advocacy, and media. Last weekend,  over 300+ attendees gathered at The Hamilton Restaurant in Washington, D.C. to celebrate the accomplishments of this year's honorees and the impact they have on their respective industries and communities.
Some of this year's honorees include Cathy Hughes (Founder and Chairperson of Urban One, Inc.), Adjoa B. Asamoah (Social Impact Strategist, Co-Creator CROWN Coalition), Chelsea Miller, Co-Founder Freedom March NYC, (Commentator Now This News), Minda Harts (Bestselling & award-winning author) and Maya Rockeymoore Cummings, Ph.D. (Founder, President, and CEO of Global Policy Solutions). While at the event, I had a chance to talk with the founders of Black Girls Vote & Color Vision and get their insight on the importance of acknowledging the accomplishments of trailbrailzing Black Women in media and politics.
Q: This year marks the 5-year anniversary of Dope Girls Brunch. Tell me how has the brunch expanded since 2018 and can you speak on the impact of Dope Girls Brunch among women?
Dope Girls Brunch: The idea of Dope Black Girls Brunch was curated by Nykidra Robinson (Founder, Black Girls Vote) when she wanted to support a candidate running for re-election. Robison partnered with Mia Davis (Founder, Color Vision) to bring the event to life in a different format by honoring women in  media and politics. The event has expanded beyond our wildest dreams as it has impacted thousands of Black women around the country through both our in-person and virtual events.
Q: Can you speak on the importance of acknowledging and uplifting Black Women who are breaking barriers in various industries? 
Dope Girls Brunch: Acknowledging Black women from all walks of life and industries is of vital importance to us. If we don't celebrate each other then who else will? The world reminds us over and over again that no matter how much we accomplish, we are still not enough. We hope that Dope Black Girls Brunch serves as a reminder to all Black women to never give in, to stay the course, to pivot when you must, and to know that we have your back. 
Q: How has Dope Black Girls Brunch encouraged the further representation of Black women in politics, advocacy, and media? 
Dope Girls Brunch: Dope Black Girls Brunch has impacted the representation of Black women in politics, advocacy, and media in a huge way over the past five years. Our brunch and awards ceremony puts extraordinary women in their well-deserved spotlight while encouraging the next generation that even what seems impossible is indeed achievable. 
Q: For the 5th year anniversary, you all will be honoring women who have played a pivotal role in politics, advocacy, and media.  How have his year's honorees contributed to the advancement of these three industries?
Dope Girls Brunch: Every single honoree for our fifth year is a trailblazer in their own right. Minda Harts continues to break down barriers in corporate America when it comes to equality. Adjoa is a CROWN Champion and is a force in all things policy, young activist Chelsea Miller is inspiring Gen Z in a huge way, Maya Rockeymoore Cummings continues to blaze paths no matter what obstacle comes her way, and Cathy Hughes, a media mogul teaches us all the importance of ownership.
Q: What other initiatives are Color Vision and Black Girls Vote creating for the community?
Dope Girls Brunch: Color Vision is
its national mentorship program to empower, elevate and enlighten young women in creative industries while  Black Girls Vote is gearing up for all things mid-term elections. Both organizations have awesome membership programs that you can support! 
Q: Any words of encouragement or words of wisdom for all women looking to make a strong impact in the community? 
Dope Girls Brunch: To any woman reading this continue to walk in your purpose and dream big no matter your age. Remember that anything is possible.
Leading up to the 5 year anniversary brunch, Black Girls Vote and Color Vision hosted two community events, a virtual Fireside Chat with Past Dope Black Girl Honorees and a Dope Black Girls Happy Hour. During the Fireside Chat,  attendees participated in a discussion about the political climate and reflect on how Dope Black Girls have grown and the impact of Dope Black Girls everywhere! To stay updated with the both women empowered organizations, visit the Black Girls Vote & Color Vision website.