Emerging Talent Take Baltimore By Storm: Meet The Captivating Artistry of RBS Rambo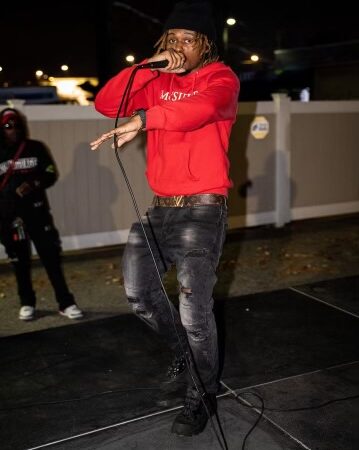 When it comes to rap music, Baltimore has a rich history and lively culture. The city has produced excellent hip-hop musicians who have contributed significantly to the genre. Tupac Shakur, J. Roddy Walston, and Labtekwon are among the notable Baltimore rappers. The city's rap scene frequently reflects its citizens' experiences and difficulties, tackling social issues and urban living. Rap music in Baltimore has a distinct style that has affected the greater hip-hop scene. Today, I'd like to introduce you to RBS Rambo, with whom I had the opportunity to learn more.
Q: Can you tell us about your latest project and talk about the inspiration and meaning behind it?
RBS Rambo: I think the latest project called "Hold You" is really important because this generation, or people in general rather, seem to sleep on RNB, and the flow of the song with RNB mixed with rap brings momentum to both Armond's and my careers. Along with the great visuals by Tevin Towns, it was a great team effort.
Q: Think about someone or something that may have inspired you to make music. Who or what was it?
RBS Rambo: I think listening to storytellers who could also do subtle stuff and hype stuff made me want to follow that path when it comes to songwriting. I could name tons of artists who inspire me to continue making music, but I think hearing my progress and growth on each track is my inspiration in a way. Once that one song goes crazy, all of my other songs will join the mix. Stay tuned for my album dropping called "This Is Rap," which goes a little into depth about what we call rap and artistry.
Q: What accomplishments do you see yourself achieving in the next 5 to 10 years?
RBS Rambo: I definitely plan on being on XXL in the next 5 years and the bet awards in the next 10. Getting a lot of active supporters on every platform is a goal of mine as well.
Q: How would you describe the music that you typically create?
RBS Rambo: I live for versatility; that's why I love listening to artists like Drake, Jack Harlow, and J. Cole. Depending on the beat, I might go bar for bar, or I might pour my heart out on the beat. Having different vibes in a project is what makes it whole and relatable. We all go through ups and downs during the days that fly by so fast. It just helps get through the day, you know?
Q: What is your creative process like?
RBS Rambo: I like to structure my music on paper and rearrange different lines to make the song flow better. I randomly think of lines throughout the day and jot them down in my notes. Like a journal, in a way. Whatever beat I hear that is good and catches my ear will get worked on. I GUARANTEE it.
Q: Take us on a journey back to the first song you have ever written. How was that experience?
RBS Rambo: It's funny; I had a friend who just came home, and he wanted to write a song, and I tried it with him while I was kicking it with him after eight months. And I started writing, and I started flowing, making sense, and I tried another beat when I got home; after that, I fell in love with writing music. It took over me from then on.
Q: Tell us about the new or previous release "Hold You"?
RBS Rambo: It came about during a 5-hour studio session, and beats were playing, and Armond hopped on a moment, and we could tell he was just playing around. I walked into the booth and told him, "Yo, you gimme a nice hook; I will give you a hard a** verse, and that was all she wrote after that. Everybody loved it.
Q: What challenges have you encountered since becoming a music artist, and how have you overcome them?
RBS Rambo:  I think one of the biggest obstacles is gaining exposure. Stepping out of your comfort zone was one thing I picked up on instantly because certain things must be done whether we like it or not. I am just accepting it and staying true to myself while doing it.
Q: Which qualities do you think make a great musician?
RBS Rambo: Versatility, Creativity, and Entendre are what make a great musician when it comes to the music side. I think the personal or business side is determined based on how they carry themselves and how they react to things. Being professional, willing, and fun are some adjectives I would give myself when I make it, so I look forward to working with people like that.
Q: Describe your favorite and least favorite part about being a musician.
RBS Rambo: My favorite part about it is the outcome. Regardless of the outcome of a studio session, song, music video, project, or promo run, you just never know what your Creativity at that moment will get you. The worst thing is having to change your lifestyle and step out of your comfort zone from several angles. It teaches you more about yourself, but it's a big commitment to stay true to yourself and give people what they want at the same time.
Q: What is the best advice you've been given?
RBS Rambo: I think the best advice I was given was to show the people, the labels, the promoters, and the investors that you can create motion by yourself before they bend backward for you or start investing in you.
Q: What's next for you?
RBS Rambo: Put it in the floor remix coming soon, much more visual content rolling out, and more music on the way. Stay tuned. But check out my latest single featuring Armond, Hold You Out, now on YouTube! Check out the video below.