Mani The Barber Is Making Noise In The Streets Of Baltimore And Here's Why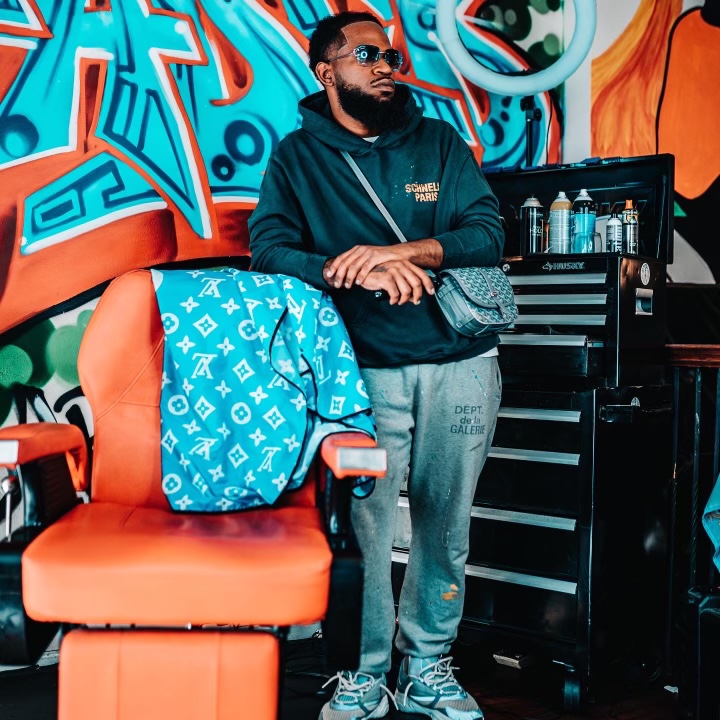 Finding a good barber is like finding a good lawyer… you gotta go to the same guy and that guy is Mani The Barber. Since the age of 15, Mani The Barber has vested his craft and passion in barbering. Growing up, he constantly saw his mother doing hair and operating several salons so he eventually followed in her footsteps. A footstep that ended up leading him upon a journey he is very proud of being a part of. Mani and I had the chance to talk and I learned more about his passion and drive for barbering.
Q: Tell us about your business/brand.
Mani The Barber:  I am a self-taught barber working to launch TakeOne Studios later this year. My brand, Take One Studio, LLC will be open to many different brand owners, barbers, stylists, hairdressers, nail techs, last techs, braiders, etc who are looking to expand their careers. As well as build an empire as a family
Q: Who inspired you to get into this line of work?
Mani The Barber:  My family definitely has inspired me to become a barber. Growing up, my mother did hair and owned salons for 20+ years. I took after her footsteps when I turned 15. I took pride in learning more about the barbering/stylist industry. Once I found passion in it, I never looked back.
My cousin/brother/boss, Christian Tillery aka CT (Owner of Faded Barbershop), has also played a huge part in my success and my inspiration as a barber. He believed in me and pushed me to become to barber/businessman I am today. As I walk into fatherhood and being a first-time dad, that has definitely added immense fuel to my fire.
Q: How would you describe your typical day on the job?
Mani The Barber:  By 10 am, I will start cleaning/prepping my station then cut clients throughout the day. The shop is extremely busy during weekends, sometimes I might have a break, sometimes I might not. Aside from that, it is a subtle working environment. Customers love to be here at Faded Barbershop, we are very family oriented. Many different business owners and vendors come inside and promote their businesses. This happens often since I'm based in the Downtown area. Overall, it never feels like work
Q: We know it's always a creative process in business, so what's your process like as a creator?
Mani The Barber:  I make sure I take the time to perfectly sanitize my station and utensils for the best service possible. That is extremely important! It takes some time for me to get my creative juices flowing. I have a passion for art so  I might draw for 20 minutes before cutting my hair, to work on my straight lines and curves. I also tend to meditate before and after work. Long hours of sleep give me time to reset for the next day. Once I'm locked in, I'm locked in. So I try to get a good pace and stay as busy as possible and get to my hefty clientele as effectively as possible.
Q: Think of a time you had to decide if you wanted to continue working a 9-5 or working as a full-time CEO. What was the process like for you?
Mani The Barber: I've always loved cutting hair but I would be lying if I said I didn't think about doing other things or indulging in different ventures. When the pandemic hit, many shops and businesses were closed and I was working job to job trying to make ends meet. Around this time, was when I realized that I need to double down on my craft, rebrand, and pray. I knew that this would lead me back into falling in love with cutting hair again. Fast forward to 2022, I'm 100% invested in this field and looking to expand with my own shop this year Take One LLC. Being a Brand owner and entrepreneur is never easy but essentially it is much harder than working a 9-5.  I knew that I never wanted to have someone have control over the fate of my wealth other than myself or God.
Q: With hopes of expansion, where do you see yourself taking your brand next?
Mani The Barber: I'm looking to open my own barbershop/salon in the coming year. I am looking to build suites with a traditional shop feel that is open to all stylists of any kind. The shop itself will have a modern feel with an urban design. Welcome to all people of all ages, races, and experiences. The shop will be located in the Baltimore area. In the upcoming years, I am looking to franchise and expand nationally.  Then subsequently, branching off into other venues such as clothing, music, art studios, and more.
Check out more of Mani's work on his Instagram @manidamenace. If you are interested in booking an appointment, click this link here.