Meet The DMV: Chancellor Jay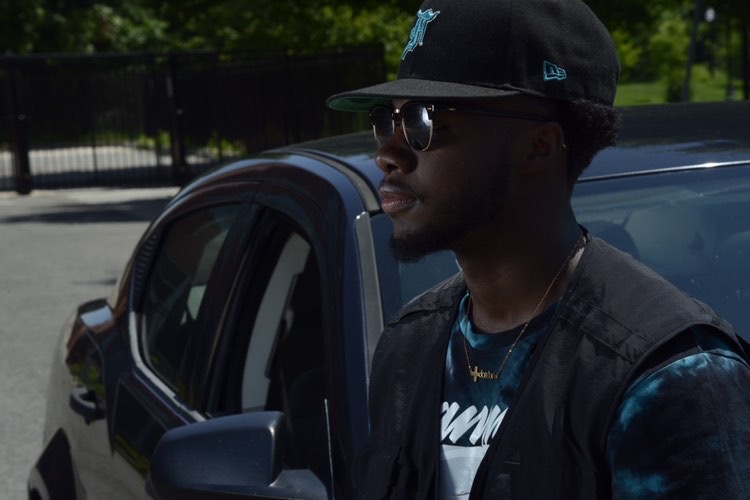 As we enter Quarter 4, every creative, music artist and business owner knows that it is time to apply the pressure to the max as 2022 comes to an end. Today I introduce you to an up-and-coming music artist who has been making noise across the DMV. Chancellor Jay is a singer-songwriter, producer, and actor who started his musical journey, writing and recording at the age of 14. Since then, he quickly stepped into the music game, reaching the genres of R&B, Neo-soul, and Hip-Hop. We had a chance to catch up and talk about his musical endeavors and his single "Up Now" from his latest EP "That One Summer"
Q: Who inspired you to make music?
Chancellor Jay: I've always had a musical background growing up whether in church or just being around people who had music experience. I never saw myself MAKING music. In high school, a great friend heard me sing a little and immediately tried to get me into writing and recording music. It honestly started as a hobby, but as I dedicated more time to the craft it became my passion.
Q: How would you describe the music that you typically create?
Chancellor Jay: In my years of making music, I'd say the genres have definitely expanded. I started off making strictly R&B music. As I gained more experience and knowledge of how to use my voice, I started creating songs in Neo-Soul, Hip-Hop, and a few dancehall tracks. Overall, I make inspirational and feel-good music that the whole family can listen to.
Q: What is your creative process like?
Chancellor Jay: The answer to what my creative process is like makes sense to a few but it may be relatable to a lot of people. I've always had a habit to create while everyone's sleeping. I'd be up at 2 or 3 am just brainstorming ideas for projects or creating promo content and I'd just lose track of time. One of my first collaborative projects was inspired by the late-night grind.  My writing process has always varied with me being the writer and producer of my own songs for a while. It got to a point where I'd just start humming melodies and I'd have a whole song created based on a few voice memos. This is how I knew this was something I wanted to do. Finding inspiration without having to have gone through anything, just understanding your gift.
Q: Who would you most like to collaborate with?
Chancellor Jay: An artist I would really like to collaborate with is Ari Lennox. I feel like working with her would be a cool experience, especially with her being from DC. I think we'd blend well together and create a lot of good music.
Q: What is one message you would give to your fans?
Chancellor Jay: Thank you for believing in me. I wouldn't be where or who I am today if it wasn't for the love and support you all give!
Q: What would you be doing right now, if it wasn't for your music career?
Chancellor Jay: Honestly, I also act and was a former athlete. If I weren't doing music I'd find my way into the entertainment or broadcasting industry.
Q: Where have you performed?
Chancellor Jay:  I have been featured on 93.9 WKYS Versus and WUSA 9's DMV Soundcheck this past year. As an artist, I've performed at Takoma Station Tavern, Halcyon House, Hyatt Regency and under Momentum Collective.
Q: Tell us about your recent single "Up Now"?
Chancellor Jay: Up Now was my celebration song, but the hook is very relatable to everyone! I recently graduated from college the past May and my older brother had graduated from college the year before I did. So essentially, I was congratulating both of us and showing love to my family and people who have supported me along this entertainment/educational journey. The music video ties all of these themes together.
Q:  Do you have any EPs or projects out right now?
Chancellor Jay: My most recent EP released is called "That One Summer" which features the song 'Up Now'. Also collaborated with artists AJ We$t, Syd Allen, and JO3 Manic on a few tracks. This EP is just an all-around fun and hype project to listen to! There is another music video from this project coming soon… stay tuned!
Q: How would you say Social Media has impacted your music career?
Chancellor Jay: Since being more present on social media, there have been a lot of ups and downs. There have been times when I wasn't able to post on my pages due to my involving myself in against social injustice. But even through those times, my music and my platforms were able to reach people in different parts of the world and helped them with their content. I personally don't want to get to the point where I'd live on social media to make a career for myself, there are always alternative routes.
Q: Which famous musician(s) do you admire?
Chancellor Jay: Kem, Neyo, Kehlani, and Blxst are my top 4 artists as of right now. I know this isn't a very normal lineup, but they all have given me glimpses of what could become of me. From the stagehand media presence to their business strategies. I feel like with enough consistency and preparation, I'd be able to work with or perform on similar platforms as them. There are a lot of local artists who are under the radar that I admire as well. Hopefully their names will reach the right rooms and they can be held in the discussion of mainstream artists.
Q: What is the best advice you've been given?
Chancellor Jay: Keep going. We all have something that makes us happy or gives us motivation, don't waste those opportunities in rooms where you're not valued.
Q:  If you could change anything about the industry, what would it be?
Chancellor Jay:  I know the culture of music has changed or is changing, but let's not confuse music with the numbers game. I get it, not everyone is going to pay attention to you if you're not buzzing. Artists and musicians are being overlooked because we're marketing on social media presence.
Q:  What's next for you?
Chancellor Jay: Whatever God has planned for me, I'm following. This has been a major growth and experience year for me and I'm extremely grateful for everything! I don't plan on stopping this journey I'm on so I plan on collaborating with more artists, booking more performances , and creating videos that show my creativity and talents.
Be sure to follow Chancellor Jay on Instagram & Twitter @chancellor.jay. Check out the visuals of his latest single "Up Now" along with his EP "That One Summer" down below.