Meet the DMV: Danielle Stewart & Samuel Osei, Co-Founders of It's Electrik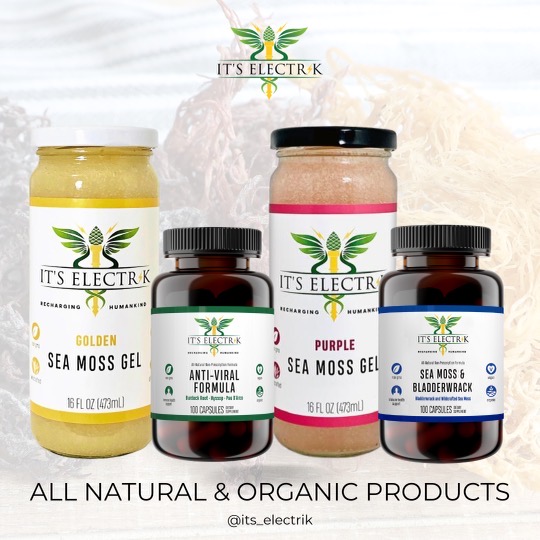 It's Electrik is a foundation with a strong mission to recharge humankind by creating awareness of natural wellness and plant-based living. Not only do they produce sea moss and other natural medicinal products, but they also provide educational courses on herbal medicine, detoxing, and mental wellness. 
It's Electrik teaches that our everyday food choices directly affect our health, and we as humans are fueled by the foods that we eat. Their goal is to educate others on the importance of feeding your body electric foods to not only maintain health but to prevent and cure disease. Meet Danielle Stewart and Samuel Osei, the founders of It's Electrik. Check out our discussion down below and learn how more about their phenomenal business. 
Q: Tell the viewers about your business in your own words:
Danielle: It's Electrik is more than just a company that sells sea moss. Our ultimate goal is to help people and bring awareness to natural wellness and the benefits of a plant-based lifestyle. Particularly in black and minority communities, there is not enough education or resources available to help lead a healthier lifestyle. Many are also unaware of natural alternatives to heal and rid the body of disease. We want to use our foundation as a catalyst to spread as much information as possible to as many people as possible.
Q: That is so amazing, how did you get so involved with this career choice?
Samuel: We started It's Electrik after going through our own natural wellness journey to lead a healthier lifestyle. We both changed to a plant-based diet, and prior to making the change, we did an extended fast with no food, and only fresh-pressed fruit and vegetable juices. Sam fasted for 40 days, and Danielle for 14 days. Once we started learning about what foods to eat, we then started studying herbs and minerals and how they help to heal the body. Dr. Sebi played a very big role in our wellness journey and was the inspiration behind our popular sea moss gel product. 
Q: What is sea moss?
Danielle: Sea moss is an alga that forms in various colors from yellow, to purple, to red, and is scientifically known as Chondrus crispus. It grows naturally along the Atlantic shorelines of Europe, North America, and the Caribbean. Because of its high nutrient content, it became known throughout Europe as the superfood of the sea. 
Q: People are wondering, what are the benefits of sea moss? and does Seamoss help combat COVID-19?
Samuel: The benefits of sea moss are endless. It can help lower blood pressure, increase energy and metabolism, aids in weight loss, helps with diabetes, contains anti-cancer properties, is anti-inflammatory and antiviral. It helps with pneumonia, arthritis, eczema, anxiety, depression, and ADHD. Sea moss also supports a healthy libido, improves heart health, and blood circulation, and is well known for improving thyroid function. Because it is an antiviral, it can certainly help with COVID, as well as the flu, and respiratory issues such as asthma, and bronchitis. 
Q: Can too much sea moss be harmful?
Danielle: Because sea moss contains iodine, there have been concerns that too much sea moss can be harmful. However, there are no claims that actually prove this as fact. We recommend taking 2 tablespoons per day to get a sufficient dose but have not seen or heard any proof that taking more causes issues. People have been consuming sea moss for centuries. It has just recently gained more recognition due to COVID. 
Q: We also see that you guys promote a Plant-Based lifestyle, tell us more about that.
Samuel: After changing our own eating habits, we wanted to share what we learned about transitioning to a plant-based lifestyle, and provide as much education as possible. The diet of most Americans does not contain the necessary plants, fruits, and minerals to sustain good health. Our bodies were naturally designed to resist and kill disease. However, over the years the human body has been severely compromised primarily due to a nutrient-deficient diet, which is causing the influx of diseases such as cancer, heart disease, diabetes and many others.
Q: A lot of people are moving to plant-based products and foods, how would you say the transition process went for you?
Danielle: The transition for us wasn't as bad as we initially thought. However, our approach was to first detox and cleanse the body from all the years of eating meat, by juice fasting for an extended period of time. After fasting, our cravings for meat dissipated, so that made it much easier. The challenging part was figuring out what to eat afterward, and we recognize that this is also what is difficult for most people. We are working on our next initiative to provide meal prep options for those looking to transition, especially those who live in areas with limited plant-based food options. 
Q: For people who don't know what non-GMO means, could you explain that to people who would like to know more about it?
Samuel: GMO stands for genetically modified organism, which is a plant, animal, or organism whose genetic makeup has been modified in a laboratory using genetic engineering. Essentially, these are unnatural foods that do not occur in nature. A significant percentage of processed foods found in your typical grocery store contain genetically engineered food products.  As a result, each day, tens of millions of American infants, children, and adults eat genetically engineered foods without their knowledge. Some of the unexpected effects and health risks of genetic engineering are cancer, loss of nutrition, immune suppression, allergic reactions, and exposure to toxins. We recommend buying organic fruits and vegetables as much as possible, and although not the most convenient solution, we highly recommend people start learning how to grow and plant their own fruits and vegetables, and find companies that sell non-GMO seeds. 
Q:  If someone wants to learn more about It's Electrik, where can they find you?
Samuel: For more information, you can check out our website at www.itselectrik.com, or follow our Instagram and Facebook page: @its_electrik and @itselectrik. Danielle is also starting a new blog at www.danistew.com, that provides plant-based recipes, as well as other helpful wellness tips and information. 
Q: Any final thoughts?Danielle: We just want to say thank you for allowing us to share our mission with the DMV Daily. Please feel free to reach out to us if you have any questions about sea moss, detoxing, transitioning to a plant-based lifestyle, or need help regarding the information on combating certain illnesses. We are here to help, give back, and recharge humankind!