Washington Commanders select WR Jahan Dotson from Penn State University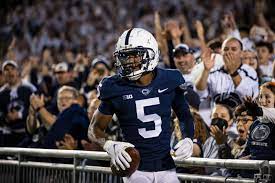 Jahan Dotson is the Washington Commanders' first-round pick selection.
Washington acquired the Penn State wide receiver with the 16th overall pick in the 2022 NFL Draft on Thursday night, after moving back from their original position of No. 11.
Dotson joins a receiving group that includes Terry McLaurin, Curtis Samuel, Cam Sims, and 2021 third-round pick Dyami Brown, among others.
McLaurin must be pleased with the choice, as he hasn't gotten much help from other wideouts in recent seasons, and quarterback Carson Wentz should be pleased as well because Dotson is another legitimate target to count on in 2022.