Young Black Female Entrepreneur Turned Her Love Of Baking Into A New Bakery At Pentagon City Mall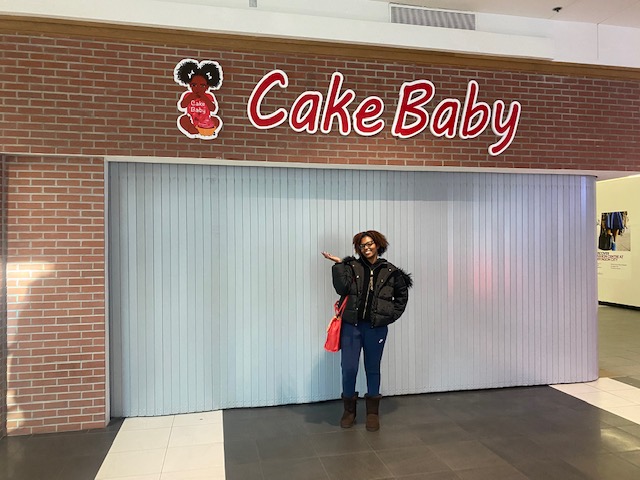 From the age of 15, Jimia Mozie (Mia) always dreamed of opening her own bakery. The young entrepreneur started off baking from her home which then led to her owning her own bakery business "Cake Baby". "Mozie attended the Culinary Institute of Virginia where she received her bachelor's degree.
As she continues to bake her delicious treats,
Cake Baby 
began to grow and expanded within the area. In December 2021,  Jimia opened up her store at Pentagon City Mall in Arlington, VA.
She had a chance to chat with me and talk about some of her struggles being a young, black female entrepreneur operating a business.
Q:  What services does Cake Baby offer?
Jimia: Cake Baby offers all kinds of delicious treats (including personalized cakes/cupcakes etc) We have cookies, brownies, cupcakes, mini cheesecakes, muffins, specialty baked bread slices. Cake Baby also provides vegan options. We offer catering, setup for parties, kids parties, baby showers, weddings, hotel parties. You name it, we do it and we can bake it. Every three weeks, we offer new flavors and designs. – The cookies and mini-cheesecakes are our customer's favorites.
Q:  What previous work or study experience do you have as a baker?
Jimia:  As a pastry chef, I have a background in breakfast pastries and standard cooking. I worked for Jersey Mike's in Middle and High School. I also went to culinary school in VA and (Culinary Inst. of VA) I have my associate's and Bachelor's degree. Even though I'm only 25 I've worked in many different fields in the food industry where I learned so much about cooking and baking.
Q:  What are your favorite techniques you use daily as a baker?
Jimia: My favorite technique to use while baking or decorating is the drip effect on my cakes. It's my favorite thing to do and it's so relaxing. Another favorite of mine is writing down my tasks for them on my whiteboard. If nothing gets written down in the morning my mind is all over the place and I can't focus, so the whiteboard sets the tone for my day.
Q:  Describe your most challenging baking project. How did you overcome it?
Jimia: My most challenging baking experience has been when making a specific order for a customer. They wanted LV cupcakes and no matter how hard I tried, I couldn't get the stencil right on the cupcake toppers. Every time I tried, it came out messy looking, so I tried to hand paint it, but that didn't work (hot mess) I called the customer and asked if I could do a different LV design, the customer was fine with that since I called and explained the issues I was having. Sometimes chefs can fix the mistake without informing the customer but communicating with my customers is key – always.
Be sure to stop by Cake Baby and purchase a sweet treat, located at Pentagon City Mall (1100 South Hayes Street Arlington, VA). For updates follow @cakeebabbyy on Instagram.