15 of The Best TV Shows to Watch on Netflix: A Definitive List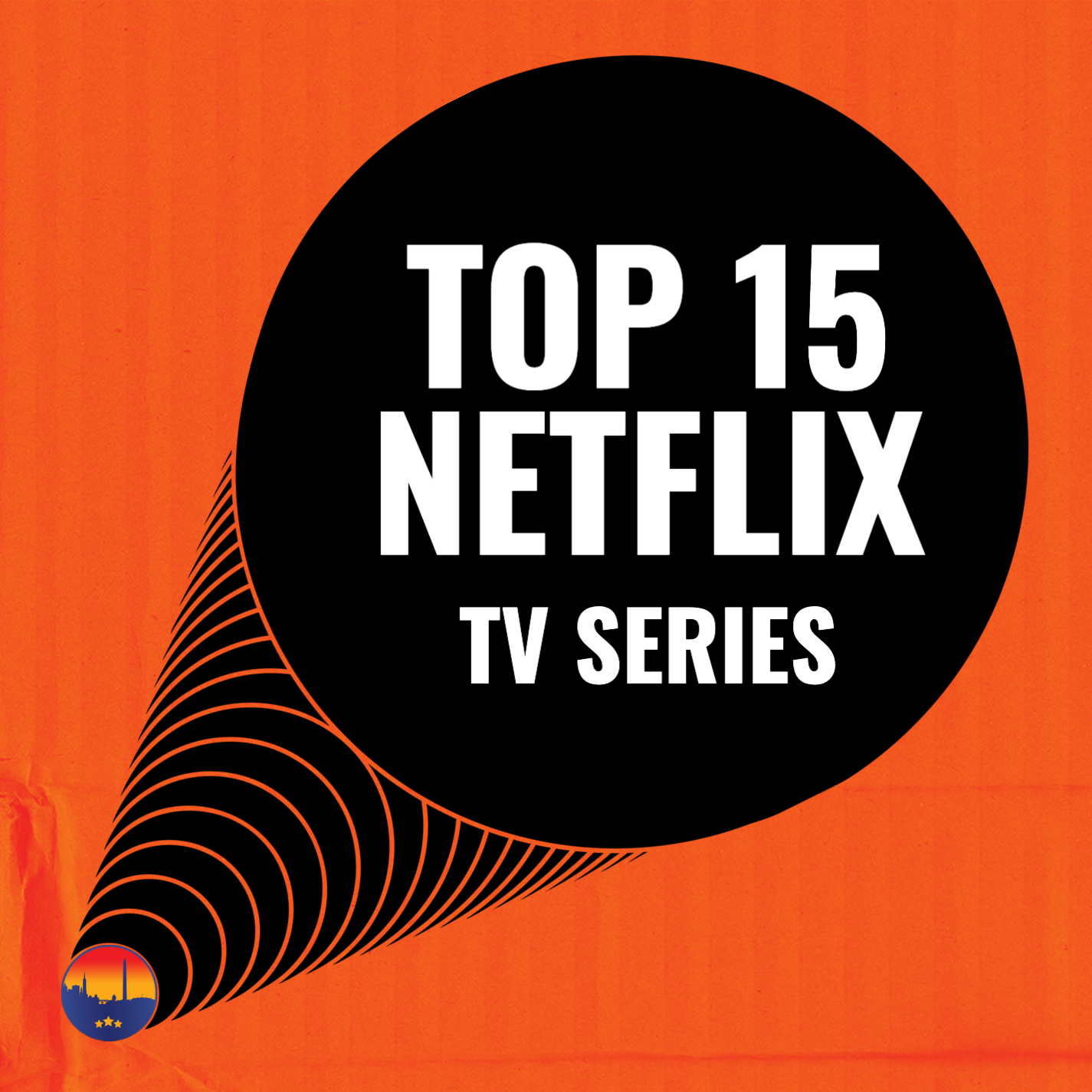 Netflix is known for its vast library of original content, from classic fan favorites to brand-new shows. It can be overwhelming trying to decide what show to watch next! To make it easier, we've put together a list of our top 15 favorite Netflix shows.
#1 – Stranger Things 
Stranger Things is a supernatural horror sci-fi series from Netflix that has taken the world by storm. It follows the story of a group of friends in Hawkins, Indiana as they uncover secrets and face off against terrifying forces from another dimension known as the Upside Down. The show features an all-star cast, including Winona Ryder and Millie Bobby Brown, and its gripping plotlines have left viewers on the edge of their seats throughout its four seasons.
The show has been praised for its unique blend of horror, sci-fi, and nostalgia. Its clever use of 80s references helps to create an atmosphere both familiar and excitingly strange, transporting viewers back in time even as it propels them forward with its thrilling narrative.
Stranger Things has also been well-received for its vivid and complex characters. As the show progresses, their relationships become more nuanced, making viewers truly invested in the story's outcome. While the show primarily focuses on the kids, it is populated with a variety of characters that are just as memorable and engaging.
The production design of Stranger Things is also stunningly done. The set pieces capture both the age of nostalgia they seek to evoke and the surreal horror of their own world. From the Hawkins laboratory to Joyce Byers' living room to the Upside Down itself, each environment is beautifully realized and adds an extra layer of depth to every scene.
Overall, Stranger Things is an exciting experience that doesn't just appeal to nostalgia but captures a distinct aesthetic that is truly its own. From the music and visuals to the suspenseful story, this show is a must-watch for any horror or science fiction fan. The attention to detail and intertwining of genres make it an intriguing watch with something new to discover each time you watch. It's definitely not one to miss! So if you're looking for a thrilling journey into another world, Stranger Things has what you need. Grab some popcorn and prepare yourself for an unforgettable experience!
#2 – Money Heist
Money Heist from Netflix is a thrilling and unpredictable crime drama that follows the exploits of an enigmatic group of robbers as they mastermind their way into the Royal Mint of Spain. The team are led by "The Professor", a mysterious figure who has meticulously planned every detail of the heist down to the last second. His plan? To print €2.4 billion in newly minted bills and escape with it, completely undetected.
The show is incredibly well-paced, taking its viewers on a white knuckle ride full of twists and turns at every turn. As each member of the team embarks on their mission, we learn more about them – their skills, strengths and weaknesses. From Tokyo's reckless recklessness to the Professor's cool reserve, each character has something unique to bring to the table.
The storylines are engaging and creative; with plenty of unexpected plot points that keep viewers hooked throughout. Every episode ends on a cliffhanger leaving you wanting more – and it delivers. From intense action sequences to subtle emotional moments, Money Heist is an incredibly engaging series that will have you on the edge of your seat from start to finish.
Overall, Money Heist is a must-watch for any fan of crime dramas or suspenseful thrillers. The show features strong writing, excellent performances and some truly thrilling twists – all factors that combine together into an utterly captivating viewing experience. It's no wonder why this show has become one of Netflix's most popular series and why it has a legion of devoted fans. So if you haven't seen it yet, do yourself a favor and give Money Heist a try – you won't be disappointed. You can expect plenty of twists, turns, and suspense in this exhilarating ride through Spain's criminal underground. The show is unique, exciting and packs an emotional punch that will leave you wanting more when the credits roll. Money Heist is truly a masterpiece that shouldn't be missed!
#3 – Ozark
Ozark is a Netflix original series that explores the story of Marty Byrde, an accountant who moves his family from Chicago to the Missouri Ozarks in order to launder money for a Mexican drug cartel. With its intense storylines, great acting and thrilling plot twists, Ozark has quickly become one of Netflix's most popular shows.
The show stars Jason Bateman as Marty Byrde, a financial adviser who gets in over his head with a dangerous client. When things start to go wrong he moves himself, his wife Wendy (Laura Linney) and their two kids, Charlotte (Sofia Hublitz) and Jonah (Skylar Gaertner), to the Missouri Ozarks and gets involved in money laundering for a Mexican drug cartel.
The show also features some of the best characters on television today, from the Byrde family to their shady new acquaintances in the Ozarks. There's Russ Langmore (Peter Mullan), a local crime boss who will stop at nothing to get what he wants; Ruth Langmore (Julia Garner), his headstrong and ambitious daughter; Mason Young (Michael Mosley) and Roy Petty (Jason Butler Harner), DEA agents determined to take down Marty's business; and Wyatt Langmore (Charlie Tahan), Ruth's younger brother who becomes entangled in Marty's schemes.
The writing is terrific, with each episode featuring several brilliant twists that keep viewers guessing. The acting is top-notch, with Jason Bateman and Laura Linney giving standout performances as the Byrdes. The show also has some of the best cinematography on television, from its stunning shots of Ozark Mountains to its expert of lighting in every scene.
Overall, Ozark a masterfully crafted drama keeps you hooked until the very end. Its compelling characters and gripping plot will keep you coming back for more, making it one of Netflix's must-watch shows. Highly recommended!
#4 – You
You from Netflix is a psychological thriller that follows the journey of Joe Goldberg, a New York bookstore clerk with an obsession for love. He meets Guinevere Beck and quickly falls in love, using any means necessary to make sure she's his — even if it means breaking the law. As the series progresses, Joe takes more extreme measures to keep Beck under his control while keeping up appearances in everyday life.
The show is an intense thriller that will leave viewers on the edge of their seats as they watch Joe's story unfold. The characters are engaging and well-developed, adding complexity to each scene. Joe is particularly captivating; actor Penn Badgley portrays him with equal parts charm and menace that makes it difficult not to empathize with him and his plight.
The show's pacing is excellent, with episodes building upon each other in a way that makes it hard to stop watching. You also does a good job of tackling contemporary issues such as technology-facilitated stalking and the consequences of social media use. It's an example of modern psychological horror at its best.
All in all, You is a must-watch series for fans of psychological thrillers and those who enjoy exploring the darker side of human behavior. It will keep viewers on their toes as they try to figure out what could possibly happen next. The tension is palpable throughout the entire season, creating an atmosphere that is both nerve-wracking and riveting — making it an engrossing watch. The excellent acting performances and the clever writing help to make this a show that is both enjoyable and thought-provoking, tackling timely topics in an entertaining way. You will have viewers talking long after it has finished — an absolute must-see!
#5 – Orange Is The New Black
Orange The New Black, from Netflix is an incredibly gripping show that follows the lives of inmates in a women's prison. The show is full of complex characters who are all struggling with very different issues. Each episode takes the viewer into the inner workings of the prison and its inhabitants, providing an insight into crime and punishment, as well as exploring themes such as justice, freedom and family.
The show has received widespread critical acclaim for its writing, acting and production values. It features powerful performances from stars such as Taylor Schilling (Piper Chapman) Laura Prepon (Alex Vause), Uzo Aduba (Suzanne Warren), Natasha Lyonne (Nicky Nichols) and Kate Mulgrew (Red). The show has also been praised for its approach to social issues such as race, gender, sexuality and class.
Overall, Orange Is The New Black is an entertaining and thought-provoking show that explores the lives of inmates in a unique way. It's well written, brilliantly acted and full of vivid details that bring the world of Litchfield prison to life. Highly recommended!
#6 – 13 Reasons Why
The series "13 Reasons Why" released by Netflix has been receiving a lot of praise and criticism alike. The show is based on the 2007 novel by Jay Asher, which follows teenager Clay Jensen (Dylan Minnette) as he discovers cassette tapes left behind by his classmate Hannah Baker (Katherine Langford). The tapes detail her journey leading to her suicide, and how certain people in her life played a role in it.
The show has drawn much attention from viewers because of its unique approach to discussing teenage issues like bullying and depression. It focuses on these important topics without shying away from their more uncomfortable aspects; this honesty arguably helps teens feel less alone in their own struggles. Furthermore, it provides an opportunity for dialogue between teens and adults that can lead to better understanding and support for those in need.
The show also serves as a cautionary tale against bullying, showcasing how the seemingly harmless actions of one person can have devastating consequences for another. It warns viewers about the lasting impact words and actions can have on somebody else's life, without getting preachy or moralistic.
In addition to its important themes, 13 Reasons Why is visually stunning and compelling. The cleverly chosen soundtrack fits perfectly with each scene and helps bring out the emotion behind it. Every second of this series has been carefully crafted to make sure nothing is wasted; there are no filler scenes here. All of these elements combine to create an engaging experience that viewers won't soon forget.
At the same time, 13 Reasons Why is not afraid to show its darker side. It tackles difficult topics like suicide, bullying, sexual assault and more with realism and empathy The series doesn't shy away from showing the lasting damage these issues can have on people's lives. While it can be a heavy watch at times, it ultimately serves as an important reminder of how even small things can have a huge impact.
Overall, 13 Reasons Why is a powerful and thought-provoking series that will stay with viewers long after they finish watching it. It offers an emotionally charged look at what happens when one person's actions affect someone else in a profound way. With its stunning visuals and gripping storyline, this series is sure to leave an impression. The show's use of music, cinematography and strong performances from its cast make 13 Reasons Why a must-watch for anyone who wants to gain insight into the complex issues that many teens today face.
#7 – Boss Baby
The Boss Baby from Netflix is a genuinely funny, family-friendly movie that will have you laughing out loud. The story follows seven-year-old Tim, who discovers that his new baby brother isn't just any baby – he's actually a highly intelligent, suit-wearing boss baby sent from BabyCorp on a secret mission to stop the spread of an evil plot to turn all babies into puppies.
The film features some great voice acting from Alec Baldwin as the titular character and Miles Bakshi as Tim. The two give great performances and really bring the characters to life with their comedic timing and energy. While it can be argued that the plot of this movie isn't particularly deep or meaningful, the movie is still great fun to watch.
A major highlight of this film is the animation. The animation is top-notch and really captures all the details of its world; from the funny little gadgets that Boss Baby uses to get things done to the big city skyline at night, it's all animated with a lot of care and attention to detail.
The soundtrack is also fantastic and features some classic songs such as "I Wanna Be Like You" (from Disney's The Jungle Book) and "You Are My Sunshine". These tracks add an extra layer of fun, making for a delightful viewing experience.
Overall, The Boss Baby is a charming movie/series with great characters, excellent animation, and a terrific soundtrack. It's sure to put a smile on the face of any viewer. Whether you're an adult or a kid, this is one flick that shouldn't be missed. Highly recommended!
#8 – Big Mouth
Big Mouth is an animated comedy series from Netflix that follows the hijinks of pre-teen best friends, Nick and Andrew. It's funny, unique, and often very relatable for anyone who's gone through puberty.
The show does a great job at representing the awkwardness of growing up with over-the-top humor and characters like hormone monsters, talking pillows, ghosts, and more. The writing is sharp and clever with a good mix of toilet humor as well as heartfelt moments. The voice acting is superb too—John Mulaney shines in particular as both Andrew's middle school self and his Hormone Monster.
What really sets Big Mouth apart from other shows about growing up is its honest and frank approach to puberty. It never shies away from discussing topics like body image, sexuality, and relationships in thoughtful ways that help kids learn more about themselves without resorting to stereotypes or cliches.
Big Mouth is an absolute must-watch for anyone looking for a funny yet thought-provoking take on growing up. The show will leave you laughing out loud and reflecting on your own experiences as well. Here's hoping we get many more seasons of this hilarious series!
#9 – The Umbrella Academy
The Umbrella Academy is a new Netflix original series based on the popular comic book of the same name. The show follows the estranged siblings of a dysfunctional family as they reunite to investigate their father's mysterious death and try to save the world from an impending apocalypse.
The cast of this show is among its strongest assets, with each character being played by an impressive actor or actress. Ellen Page stars as Vanya, the black sheep of the family who discovers her special powers and struggles to find her place in life. Tom Hopper plays Luther, the group's leader and oldest brother whose physical strength hides his emotional vulnerability. Robert Sheehan and Aidan Gallagher round out the main cast as Klaus and Number Five respectively, two brothers with very different outlooks and abilities. The ensemble is rounded off by Emmy Raver-Lampman as Allison, David Castañeda as Diego and Justin Min as Ben – all of whom add depth to the already complex family dynamic.
The writing in The Umbrella Academy is brilliant, creating a unique world full of quirkiness and intrigue. It seamlessly blends elements of science fiction and fantasy with some surprisingly heartfelt moments that often leave viewers at the edge of their seat. With plenty of action sequences, witty dialogue and surprising plot twists, this show always manages to keep its audience entertained from start to finish.
In short, The Umbrella Academy is an enjoyable and captivating watch that balances humor with dark plotlines while keeping viewers on the edge of their seat. It is sure to satisfy those who are looking for a thrilling and unpredictable series with plenty of drama. Highly recommended!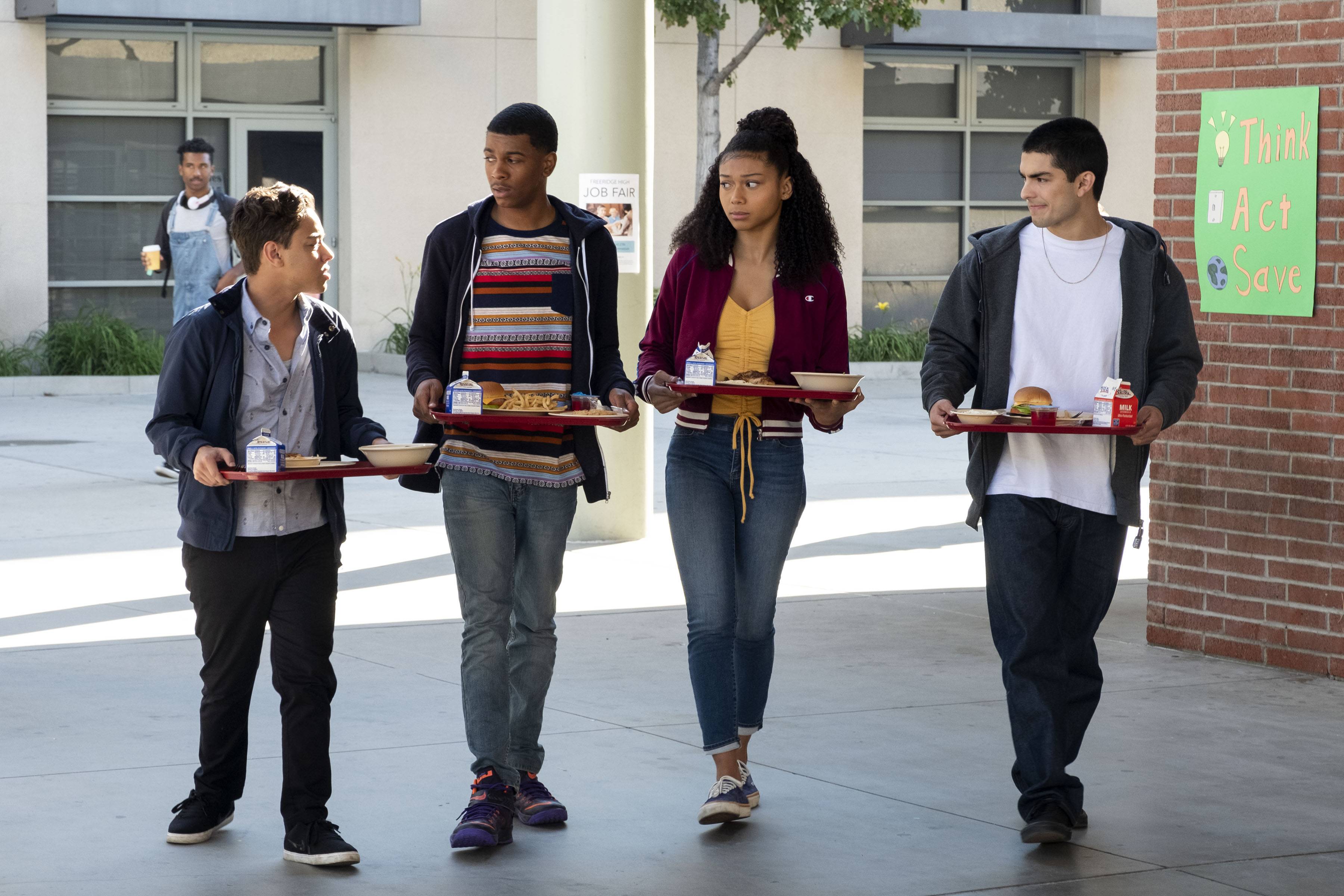 #10 – On My Block
On My Block is a teen comedy series created by Lauren Iungerich and Eddie Gonzalez. It follows four friends as they enter into their freshman year of high school in the inner-city neighborhood of Freeridge, California. The show focuses on the struggles they face growing up in an impoverished area while also dealing with new challenges that come with adolescence.
The show's cast is diverse and features both young Latino actors from the Los Angeles area and rising stars from other backgrounds. The characters are well-developed and likable, making it easy to get invested in their stories. Each character has his or her own unique background and outlooks which often clash with each other, adding depth to the show's story arcs.
The writing is sharp and witty, with the show exploring many relatable themes like bullying, peer pressure, family dynamics, and racism. The show also has plenty of lighthearted moments that make it enjoyable to watch.
On My Block largely avoids stereotypical portrayals of people from inner-city neighborhoods while still giving an honest look at life there. It's funny and often moving drama that is sure to capture the attention of viewers of all ages. With its excellent cast and strong writing, On My Block is a must watch for anyone looking for a quality series on Netflix.
The show also features a few interesting story arcs that develop over the course of the season. From rival gangs to love triangles, On My Block tackles these issues in an engaging way that keeps viewers coming back for more. There are plenty of surprises and twists along the way, making it even more rewarding when you finish watching all ten episodes.
Overall, On My Block is a well-written show that provides an often overlooked look into inner-city neighborhoods. With its dynamic cast and relatable themes, On My Block is sure to be one of Netflix's must watch shows this year. If you haven't seen it yet, now is the time!
#11 – House of Cards
House of Cards is a political drama streaming on Netflix that follows the life of Frank Underwood, a conniving and ambitious politician. The show features riveting performances by Kevin Spacey and Robin Wright as they battle against their rivals to gain power in Washington D.C.
The show isn't afraid to go dark, tackling serious issues such as corruption, deceit and manipulation at the highest levels of government. But it still manages to be an enjoyable watch thanks to its engaging characters and twists and turns of the plot. Even though some of the storylines may stretch credibility, there's no denying that House of Cards is an addictive series with plenty of thrilling moments.
The writing is also top notch with clever dialogue that never feels overly contrived. Spacey and Wright deliver powerful performances as Frank and Claire Underwood, a couple determined to outmaneuver their opponents in their quest for power. The supporting cast is also excellent, with memorable turns from Kate Mara and Corey Stoll.
Overall, House of Cards is an intelligent show that will keep you hooked until the very end. It's riveting mix of politics, drama and suspense make it worth watching for anyone who enjoys thrilling television shows. It's well-crafted stories, engaging characters and smart writing set it apart from other series on Netflix and make it an essential watch for fans of political dramas.

#12 – BoJack Horseman
BoJack Horseman is Netflix's hilarious and heartbreaking animated comedy-drama series, starring Will Arnett as the titular character. BoJack, a washed-up TV star from the '90s sitcom Horsin' Around, is struggling to stay relevant in Hollywood while grappling with his inner demons.
The show follows BoJack's personal and professional ups and downs as he tries to navigate modern life in a world where humans and anthropomorphic animals coexist. Along for the ride are BoJack's feline agent Princess Carolyn (Amy Sedaris), human friend Todd Chavez (Aaron Paul) and beloved housemate Diane Nguyen (Alison Brie). While many of BoJack's adventures take place within the seedy Hollywood landscape, the show goes deeper than that.
The writing in BoJack Horseman is smart and pointed, often diving into issues like depression and loneliness with a surprisingly light touch. It's no surprise that the show has earned critical acclaim for its brutally honest exploration of what it means to be human—or at least animal-like. The cast of characters are all enjoyable to watch, from his celebrity-obsessed roommate Mr. Peanutbutter (Paul F. Tompkins) to his ghostwriter Diane Nguyen (Alison Brie). Will Arnett's portrayal of BoJack is simultaneously heartbreaking and hilarious, making him one of television's most intriguing antiheroes.
Overall, BoJack Horseman is an engaging and often thought-provoking show that deserves to be watched. It's unflinching in its examination of life challenges, but it also manages find moments of joy and humor in the darkest corners of human experience.Jack may be a horse, but his story is one we can all relate to.
#13 – A Series of Unfortunate Events
A Series of Unfortunate Events, the Netflix adaptation of Lemony Snicket's beloved novel series, is a darkly humorous take on the misadventures three orphans who are sent to with their distant relative, Count Olaf. Neil Patrick Harris provides an excellent performance Olaf, and Patrick Warton brings wit and charm to his portrayal of narrator Lemony Snicket. The Baudelaire children—Violet, Klaus and Sunny—are adeptly portrayed by Malina Weissman, Louis Hynes and Presley Smith respectively.
The show is beautifully shot with vivid colors that give it a unique style – from the deep blues and purples in the VFD scenes to the muted tones of Prufrock Preparatory School. The sets, costumes and special effects all come together to create a world of nostalgia, adventure, and mystery that faithful of the book series will appreciate
The series manages to capture the exact of Snicket's books adding in some modern touches that make it appealing to as well. This is evidenced by hilarious cameos from Will Arnett and Cobie Smulders as siblings who are desperate to get their hands on the Baudelaire fortune.
At its core though, A Series of Unfortunate Events is an emotional story about three children trying to survive in an often cruel and confusing adult world. With clever writing, sophisticated humor and strong performances, Netflix's adaptation of the Lemony Snicket book series is a delightful journey into a dark and magical world.
The show is visually captivating and often surreal, playing up its macabre tone to great effect. The cast does an excellent job of bringing these characters to life in a way that feels true to their books counterparts. Neil Patrick Harris as Count Olaf is particularly impressive, showcasing his range as he portrays a conniving yet humorous villain.
All in all, A Series of Unfortunate Events succeeds in doing justice to the source material and creating a gripping retelling for both new and old fans alike. It's witty and charming with enough twists along the way to keep viewers engaged throughout the entire season. If you're looking for a dark and imaginative show to dive into, this is definitely one you should check out.
#14 – The Last Kingdom
The Last Kingdom from Netflix is a thrilling, epic journey set in 9th century England. Based on Bernard Cornwell's best-selling Saxon Stories series, the show tells the gripping story of Uhtred, an orphan who sets out to reclaim his ancestral lands and become king. The drama follows Uhtred as he navigates his way through shifting alliances and deep betrayals while leading forces against a viciously ambitious enemy King.
Centered around fantastic battle sequences and political intrigue, the show paints a vivid picture of life during this chaotic period in history. The action scenes are well choreographed with intense sword fighting scenes that will leave you breathless. There is also plenty of humor to keep viewers engaged throughout the episodes.
The cast is outstanding and the performances are pitch perfect. Alexander Dreymon stars as Uhtred, providing a nuanced portrayal of a determined warrior with a deep understanding of loyalty and honor. His scenes with co-star Eliza Butterworth are particularly strong, offering plenty of emotional depth to their relationship.
The production quality on The Last Kingdom is impressive, with stunning landscapes, authentic costumes, and detailed sets that help bring this period in history to life. Additionally, the historical accuracy allows viewers to gain insight into England's past without feeling overwhelmed by facts and figures.
Overall, The Last Kingdom is an exciting and entertaining show that blends thrilling action sequences with compelling drama for a truly enjoyable viewing experience. With rich characters a gripping story, it is sure to captivate fans of historical fiction.
#15 – Squid Game
Squid Game from Netflix is a unique and fun game that has been gaining in popularity since it was released. The concept of the game is simple yet entertaining: you play as a squid, and your goal is to collect coins and survive for as long as possible while avoiding obstacles such as jellyfish and whirlpools. The graphics are colorful and vibrant, making for an immersive gaming experience.
The controls for the game are easy to learn – the left joystick moves your squid up, down, left, or right while the right joystick allows you to shoot bubbles at enemies. There are also power-ups throughout each level that give you extra speed or invincibility so you can clear levels faster. Additionally, there are four difficulty levels to choose from, allowing players of all ages and skill level to enjoy Squid Game.
Overall, Squid Game is a fun and simple game that is enjoyable for both adults and children alike. The vibrant graphics, easy-to-learn controls, and varying difficulty levels make Squid Game an excellent choice for anyone looking for a casual gaming experience. Whether you're looking to pass the time or challenge yourself with this entertaining title, Squid Game has something for everyone.
Honorable Mention:
Bird Box
A True Story
Designated Survivor
A Good Place
Bodyguard
Family Reunion