The speed limit will go down near Battlefield High School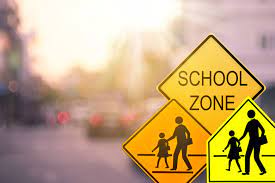 The Prince William County School Board approved a plan Wednesday that would slow down traffic near Haymarket, Virginia's Battlefield High School, where a few people have been hit by cars in recent years.
Board members agreed to the idea that the speed limit at James Madison Highway and Graduation Drive should be lowered from 55 mph to 35 mph during school drop-off and pick-up times.
Jennifer Wall, who is on the board for the Gainesville District, said, "There have been some very bad accidents." "There are a lot of cars on the road, and they drive at highway speeds."
The plan will now be looked at by the Prince William County Board of Supervisors.
"Both sides of the road are pretty hidden, so it's a place where people can get caught off guard," Wall said.
The Virginia Department of Transportation crash data was used in a report that the school board asked for. It showed that there were 53 accidents at the corner of James Madison Highway and Graduation Drive between January 2016 and December 2020.
The report said that 36 of the crashes were rear-end collisions, which "may indicate that some drivers were going faster than they should have and were not able to stop in time."
Last year, two pedestrians were killed on the stretch, and on November 23, a third pedestrian was killed near the school, according to Prince William County police.
Wall said, "I know that the community strongly backs any safety measure we can take."
Renee Brennan, the mother of two Battlefield students, said that the intersection has been a big problem for the nearly 20 years she has lived nearby.
Brennan said, "I call it a "silent school zone" because everyone in our community knows that this is a school zone, even if we don't mark it." "It's near a school. It's how our kids get to school, and the only ones who don't know it's a school zone are the cars going 55 miles per hour.