Hyattsville makes thousands of dollars available for emergency relief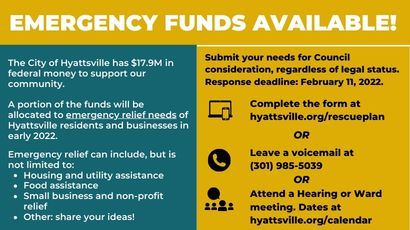 The city of Hyattsville, Maryland, has opened its emergency relief application to residents and businesses that want to use COVID-19 American Rescue Plan funds.
The city council said that it put aside $1 million of its more than $17.9 million award to set up its Household Emergency Relief Program, which is run by the community development corporation.
On Oct. 31, people could start applying for the program. People can get up to $2,500, plus an extra $1,250 for each child who lives with them.
The total amount for a household can't be more than $5,000, and the money can only be used for the things listed on an application. You have to keep your receipts.
If you want to apply, you have to show proof that you live in the city of Hyattsville and that the pandemic has caused you to need money. This could mean:
Proof of participation in a needs-based program that is on the list
Proof of a low to moderate income
A "statement of need and proof of hardship"
Processing can take anywhere from 3 to 4 weeks, but it can take longer if applications aren't full when they're sent in.