North Carolina defeats Duke in the Final Four. Will Face Kansas in The National Championship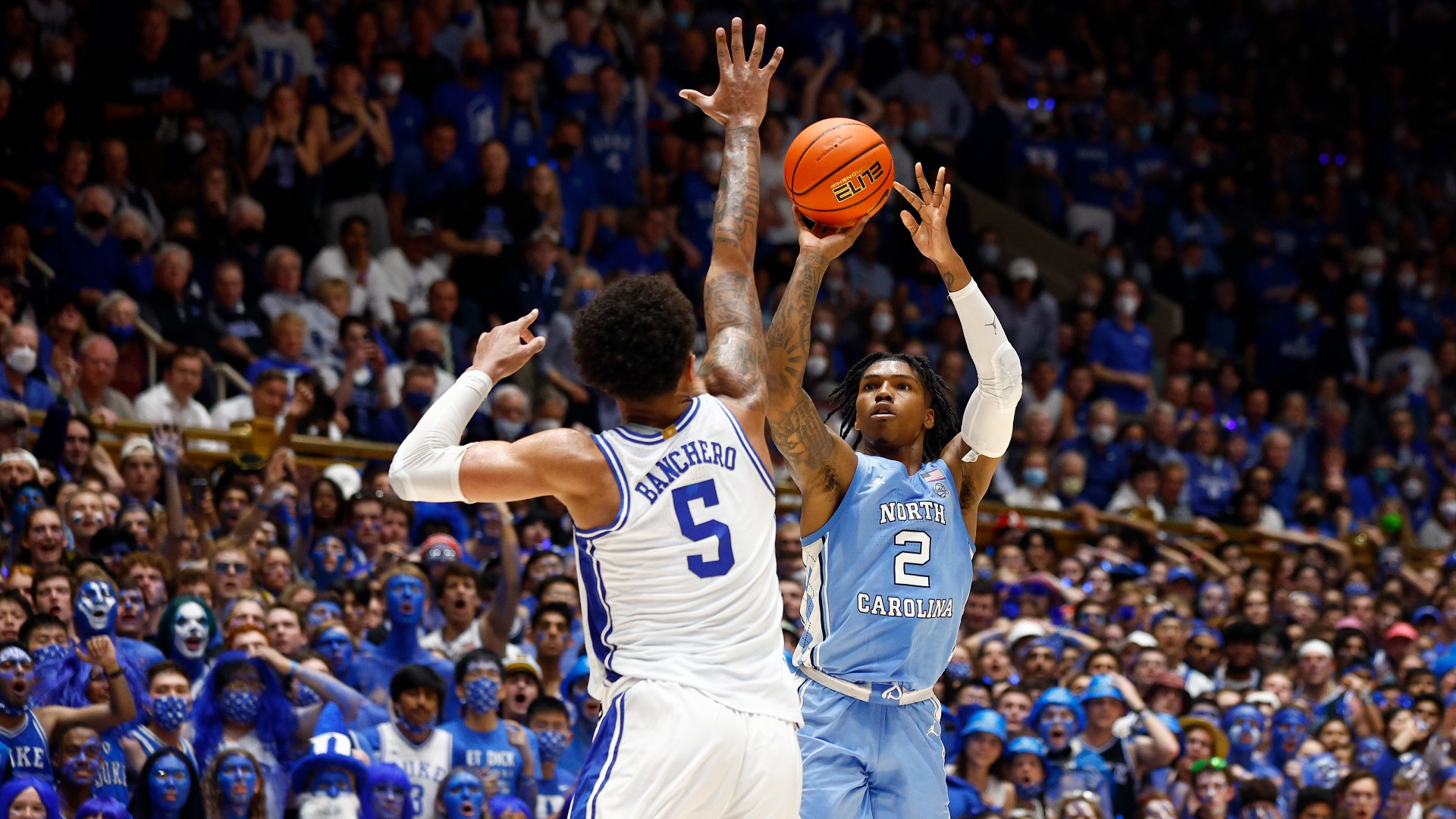 In a game for the ages, North Carolina defeated its rival Duke to advance to the National Championship to play Kansas.
They defeated their archrival, Duke, 81-77, and sent legendary , Mike Krzyzewski to retirement early. The game was back and forth until the last minute. The largest lead in the game was only seven points by Duke and included 18 lead changes.
Despite getting just 5 minutes from center Mark Williams, who picked up two fast fouls, and North Carolina piling up four first-half fouls on his replacement, Theo John, Duke headed into halftime ahead 37-34.
25 seconds remaining, Caleb Love's huge 3-pointer lifted the Tar Heels across the finish line and to victory. Love finished with 28 points, including two late free throws that put Carolina up by four points and put the game out of reach.
Armando Bacot's performance for the Tarheels shouldn't go overlooked as he scored 11 points but dominated the glass with 21 rebounds.
Top NBA Prospect Paolo Banchero led Duke in scoring with 20 points as well as rebounding grabbing 10 boards, while Trevor Keels scored 19 points off the bench.
Krzyzewski leaves an unparalleled legacy, marked by 1,202 wins and hundreds of Duke basketball graduates, some of whom have gone on to become NBA All-Stars and many of whom speak glowingly about his influence on their lives.
Meanwhile, Coach Hubert Davis in his first year as head coach will head to the National Championship.
North Carolina now leads the season series with Duke 2-1, and the Heels will face the Jayhawks, who defeated Villanova 81-65 earlier Saturday.
STARTERS
MIN
FG
3PT
FT
OREB
DREB
REB
AST
STL
BLK
TO
PF
PTS
A. Bacot

F

—
3-10
0-0
5-8
8
13
21
0
1
1
2
5
11
B. Manek

F

—
4-10
3-6
3-6
1
3
4
0
0
3
2
3
14
R.J. Davis

G

—
6-13
2-4
4-4
0
7
7
4
0
0
1
4
18
C. Love

G

—
11-20
3-10
3-4
0
4
4
1
0
0
4
2
28
L. Black

G

—
3-9
2-5
0-0
6
3
9
2
0
1
1
3
8
BENCH
MIN
FG
3PT
FT
OREB
DREB
REB
AST
STL
BLK
TO
PF
PTS
J. McKoy

F

—
0-0
0-0
0-0
0
0
0
0
0
0
0
1
0
P. Johnson

G

—
0-0
0-0
2-2
0
2
2
0
1
0
0
1
2
D. Styles

G

—
0-2
0-1
0-0
0
1
1
0
0
0
0
0
0
TEAM
27-64
10-26
17-24
17
33
50
7
2
5
10
19
81
42.2%
38.5%
70.8%
STARTERS
MIN
FG
3PT
FT
OREB
DREB
REB
AST
STL
BLK
TO
PF
PTS
W. Moore Jr.

F

—
4-14
1-2
1-2
3
5
8
3
2
0
0
3
10
AJ Griffin

F

—
1-7
0-4
4-4
0
4
4
1
0
2
0
1
6
P. Banchero

F

—
8-17
2-4
2-4
4
6
10
2
0
2
1
2
20
M. Williams

C

—
4-5
0-0
0-2
2
2
4
0
2
0
1
4
8
J. Roach

G

—
2-11
0-5
4-5
1
5
6
5
2
0
2
3
8
BENCH
MIN
FG
3PT
FT
OREB
DREB
REB
AST
STL
BLK
TO
PF
PTS
T. John

F

—
3-4
0-0
0-0
2
2
4
1
0
0
0
4
6
T. Keels

G

—
8-14
2-7
1-3
1
1
2
0
1
0
0
1
19
TEAM
30-72
5-22
12-20
15
26
41
12
7
4
4
18
77
41.7%
22.7%
60.0%