Washington Mystics 2022 Schedule Announced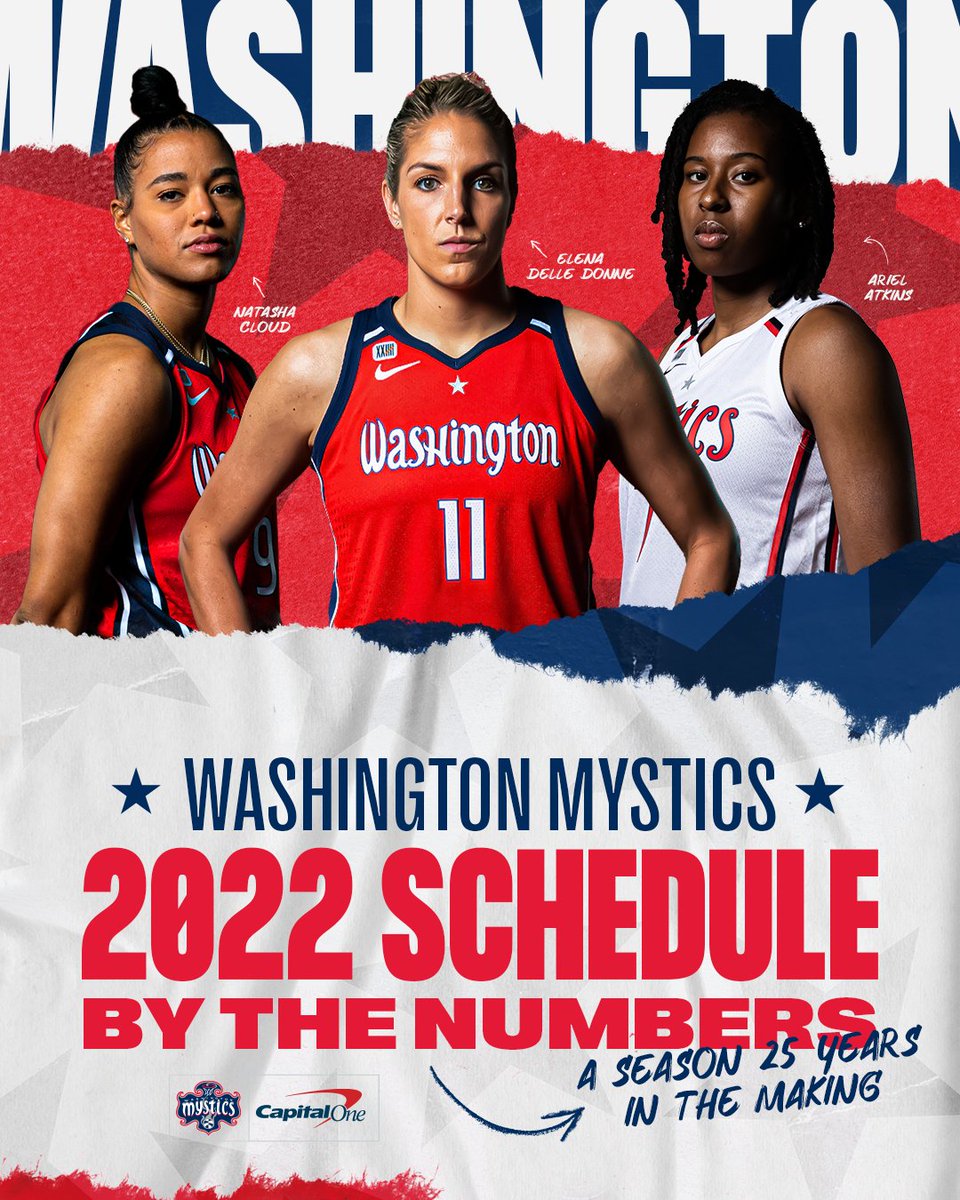 The Washington Mystics  2022 regular season schedule is out. Mystics will tip off the season on Friday, May 6 versus the Indiana Fever at 7:00 p.m.
During the 2022 season, all of the WNBA teams will play an all-time high of 36 games, a two-game increase from the 34-game schedule.
Washington will have some tough games against the Las Vegas Aces (May 10), Dallas Wings (May 13), 2021 WNBA Champion Chicago Sky (May 22), and Atlanta Dream (May 24) to the Entertainment & Sports Arena during the month of May.
The 2022 WNBA season marks the 25th Anniversary of the Washington Mystics. They originated in 1997.
The 25th anniversary season will include a celebration of past players, top-tier highlights in franchise history, and recognition of the fan base. Anniversary festivities will be announced at a later date.
A copy of the Mystics' schedule is attached and a link to the Mystics schedule release video can be found here.
For information on the Mystics Club 52 full season memberships, presented by Ticketmaster, and to secure your seats for the upcoming season, please visit www.washingtonmystics.com.
Below is the full schedule for 2022.
Fri, May 6

vs

Indiana

7:00 PM
Entertainment & Sports Arena
Sun, May 8
7:00 PM
Target Center
Tue, May 10
7:00 PM
Entertainment & Sports Arena
Fri, May 13

vs

Dallas

7:00 PM
Entertainment & Sports Arena
Tue, May 17
8:00 PM
College Park Center
Fri, May 20
7:30 PM
Gateway Center
Sun, May 22

vs

Chicago

3:00 PM
Entertainment & Sports Arena
Tue, May 24

vs

Atlanta

7:00 PM
Entertainment & Sports Arena
Sat, May 28
7:00 PM
Mohegan Sun Arena
Tue, May 31
7:00 PM
Indiana Farmers Coliseum
Fri, Jun 3

vs

New York

7:00 PM
Entertainment & Sports Arena
Sun, Jun 5
6:00 PM
Wintrust Arena
Wed, Jun 8

vs

Chicago

7:00 PM
Entertainment & Sports Arena
Fri, Jun 10
8:00 PM
Target Center
Sun, Jun 12

vs

Phoenix

6:00 PM
Entertainment & Sports Arena
Tue, Jun 14

vs

Phoenix

7:00 PM
Entertainment & Sports Arena
Thu, Jun 16
7:00 PM
Barclays Center
Sun, Jun 19
3:00 PM
Entertainment & Sports Arena
Tue, Jun 21
10:30 PM
crypto.com Arena
Thu, Jun 23
10:00 PM
Angel of the Winds Arena
Sat, Jun 25
10:00 PM
Michelob Ultra Arena
Tue, Jun 28

vs

Atlanta

7:00 PM
Entertainment & Sports Arena
Sun, Jul 3
1:00 PM
Mohegan Sun Arena
Wed, Jul 6
7:00 PM
Gateway Center
Tue, Jul 12
10:30 PM
crypto.com Arena
Thu, Jul 14
10:00 PM
Footprint Center
Sun, Jul 17
3:00 PM
Entertainment & Sports Arena
Thu, Jul 21

vs

New York

11:30 AM
Capital One Arena
Thu, Jul 28
8:00 PM
College Park Center
Sat, Jul 30

vs

Seattle

12:00 PM
Entertainment & Sports Arena
Sun, Jul 31

vs

Seattle

3:00 PM
Entertainment & Sports Arena
Tue, Aug 2
7:00 PM
Entertainment & Sports Arena
Fri, Aug 5
8:00 PM
Wintrust Arena
Sun, Aug 7
3:00 PM
Entertainment & Sports Arena
Fri, Aug 12
7:00 PM
Hinkle Fieldhouse
Sun, Aug 14

vs

Indiana

3:00 PM
Entertainment & Sports Arena