Lidl puts artwork by DC students on shopping bags to raise money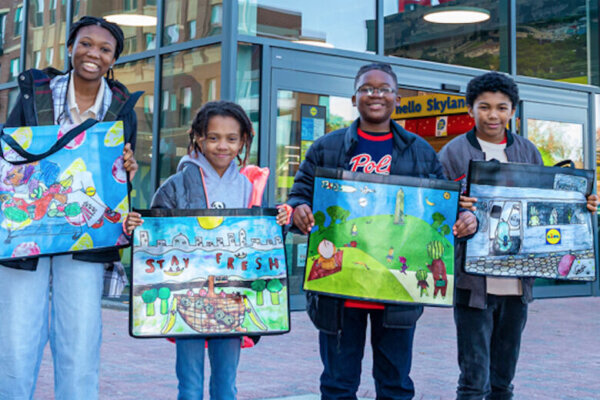 Lidl, a discount grocery store, has turned the artwork of four D.C. students into limited-edition shopping bags that will be sold to raise money for a good cause.
Lidl will only sell the tote bags at its new store at Skyland Town Center, 2224 Town Center Drive, S.E., starting on Wednesday.
The price of the bags is $3.99. Joyful Food Markets is a program that is supported by Martha's Table, the Capital Area Food Bank, and DC Health. All of the money they make from their sales will go to this program.
Joyful Food Markets are pop-up, free grocery stores that happen once a month in Wards 7 and 8 of Washington, D.C. They offer fresh fruits and vegetables to people who live there.
Project Create, a non-profit that helps children and families in D.C. learn about the arts and develop their creative skills, chose the designs.
All of the chosen works of art show scenes from the District and include fresh fruits and vegetables.
"Every day at Project Create, we see artists in our students. The head of Project Create, Christie Walser, said, "We're thrilled to be able to show our community their amazing talent."
In September, the Skyland Town Center Lidl opened. It's the first Lidl store in D.C. and the first new grocery store in Ward 7 in more than a decade.