Nationals get 5-3 win over San Francisco Giants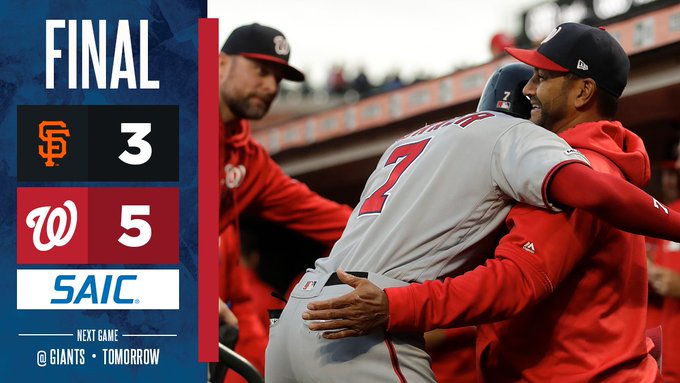 Following a 4-0 win in the first game of their final three-game series with the San Francisco Giants, the Nationals follow that performance up with a 5-3 win over the aforementioned team. The win improves the Nationals' record to 60-53. The loss for the Giants drops their record to 56-58 and drop them a half game behind the Arizona Diamondbacks in the National League West division.
The Nationals got off to a hot start scoring their first four runs of the game in the first three innings including a two run home run by catcher Kurt Suzuki. By the end of the fifth inning, the Nats had a 5-1 lead following a solo home run by shortstop Trea Turner. The home run was historic for Trea Turner as it was his 500th career hit.
The Giants would score two runs in the sixth and seventh inning each but it was not enough leading to a Nationals win.
The Nationals had been in a slump going into this series with the Giants as they had lost seven of their last 10 games. They lost three consecutive three-game series' against the Los Angeles Dodgers, Atlanta Braves and the Arizona Diamondbacks respectively. This three-game series win with the Giants will be the first series the Nats have won since their four-game series with the Colorado Rockies in late July.
The Nationals and Giants will play the final game of their three-game series tomorrow afternoon