Nationals sweep Wednesday doubleheader against Colorado Rockies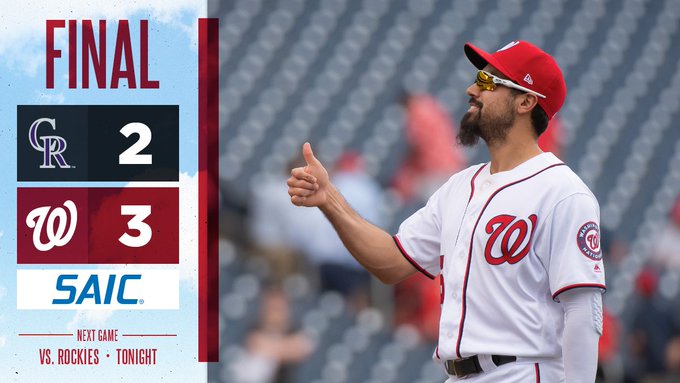 Wednesday was a great day for the Nationals as they swept a doubleheader against the Colorado Rockies to take a 3-0 lead in their current four game series.
The first game of the day saw the Nats best the Rockies 3-2. Both teams started off slow as the first run wasn't scored until the fourth inning when the Rockies scored off a sacrifice hit by second baseman Ryan McMahon to take a 1-0 lead. After tying the game off a walk in the fourth inning, the Nats would take the lead in the fifth after a single-run home run from rightfielder Adam Eaton.
After the Rockies would tie the game in the sixth inning off a single from McMahon, the Nats would take and keep the lead in the seventh inning after a home run from third baseman Anthony Rendon to secure the win in the first game of the doubleheader.
After the second game was delayed due to rain, the Nats got to work getting the win in the second game of the doubleheader. The second was much less eventful as the Nats shutout the Rockies winning 2-0.
The first run of the game didn't come until second baseman Brian Dozier scored off a Rockies error in the fourth inning. The second run came off a home run from catcher Yan Gomes.
• 18 of 24
• 23 of 31
• 32 of 46
• 36 of 51 pic.twitter.com/NqZw1f83bE

— Washington Nationals (@Nationals) July 25, 2019
The Nats will look to continue their incredible run after starting the season with a 19-31 record as they play their final game of their four game series and their final regular season matchup against the Rockies Thursday afternoon.