One Year Ago Today: Washington Nationals record drops to 19-31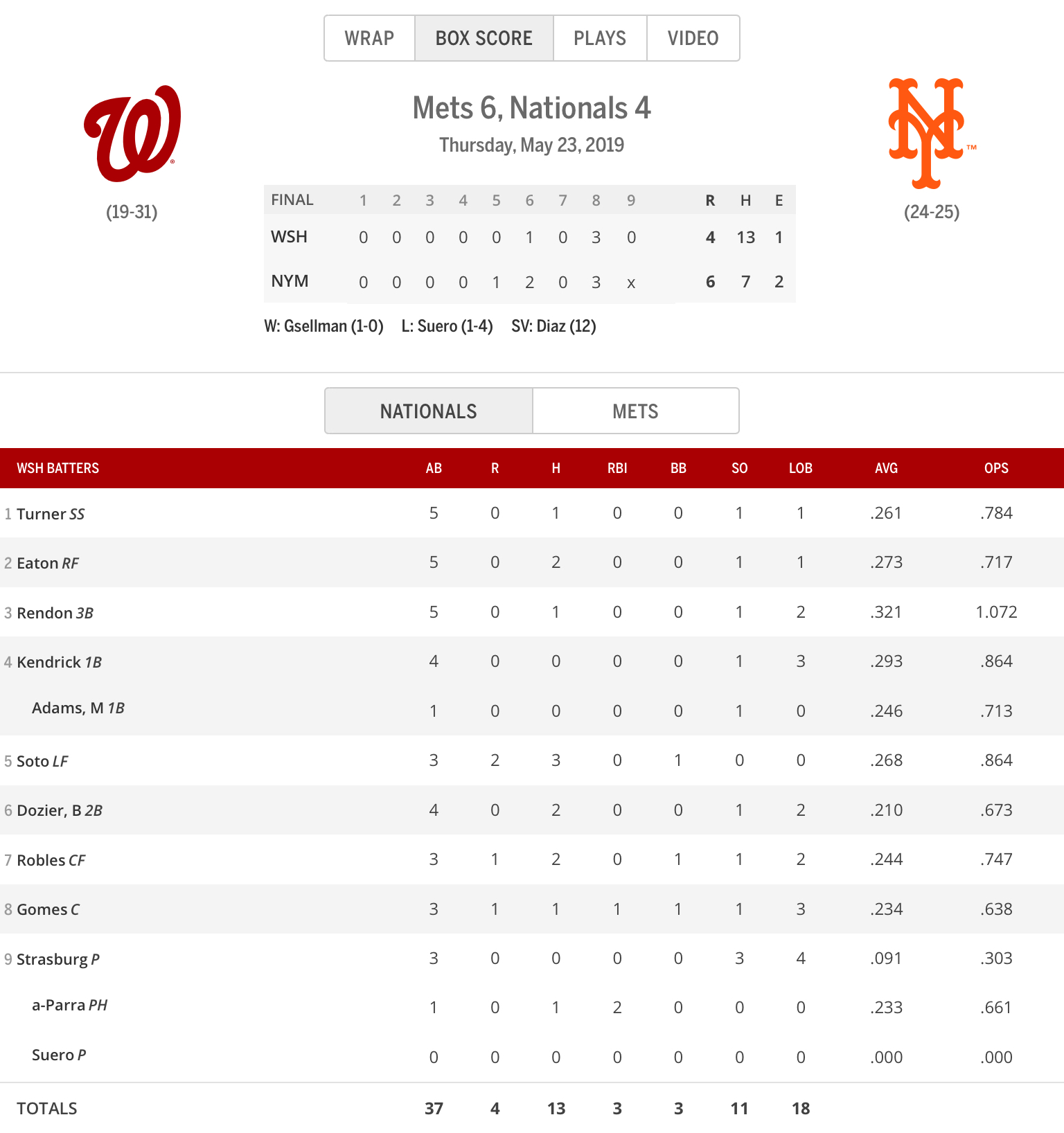 On this day one year ago, the Washington Nationals early struggles continued as a 4-6 loss to the New York Mets gave them their fifth straight loss (their longest losing streak of the season) giving them a record of 19-31 through 50 games. At this point, the Nationals were second to last in the National League and second to last in the NL East division.
In their first 50 games, the Nationals had four losing streaks of at least three games or more including the penultimate five-game losing streak that led to their 19-31 record. The Nationals held a record of 7-17 in games from April 29th to May 23rd leading up to their lowest point of the season.
FINAL // Mets 6, Nats 5 pic.twitter.com/6w7NTGAsDY

— Washington Nationals (@Nationals) May 22, 2019
The Nationals would turn things around, however, as they won 22 of their next 31 games between May 24th and June 28th to bring their record to 41-40 the first time their record was above .500 since April 18th when they held a 9-8 record.
The Nats winning ways would continue on their way to finishing the regular season with a 93-69 record going from the second worst team in the National League on May 23rd to the third best team in the NL at the end of the season.
Somehow, the Nationals turned around a disaster start to their season on their way to making the playoffs. This would be a spectacular story if things ended here but the Nationals were not satisfied as their winning ways continued in the playoffs.
Starting off their playoff run the Nationals took a 4-3 win in their Wild Card game against the Milwaukee Brewers highlighted by a spectacular 3-run RBI by Juan Soto to advance to the National League Division Series.
The Greatest Comeback Team in @MLB History™

World Series Champion Juan Soto was only 20 years old when he got the game-winning hit in the NL Wild Card Game.@JuanSoto25_ // #NATITUDE pic.twitter.com/A9Vv0R5QBJ

— Washington Nationals (@Nationals) May 19, 2020
Following a 3-2 series win in the NLDS against the Los Angeles Dodgers, the Nationals would advance to their first National League Championship Series since 1981 when they were the Montreal Expos. In the NLCS, the Nationals swept the St. Louis Cardinals 4-0 on their way to their first World Series in franchise history.
The Nationals capped off their cinderella run to the World Series with a 4-3 series win over the Houston Astros.
What seemed like a disastrous season filled with frustration and disappointment ended with triumph as the Nationals secured the ultimate prize in baseball…a World Series championship!
Bumpy roads lead to beautiful places.

From 19-31 to World Series champions.

The story of the 2019 Washington Nationals is so incredible that you could make a movie about it.

(So they did.)

🎟️ // https://t.co/n7TC24IXot pic.twitter.com/GPGdw0FHo1

— Washington Nationals (@Nationals) November 22, 2019