Washington Nationals Get A Victory Over The Chicago White Sox.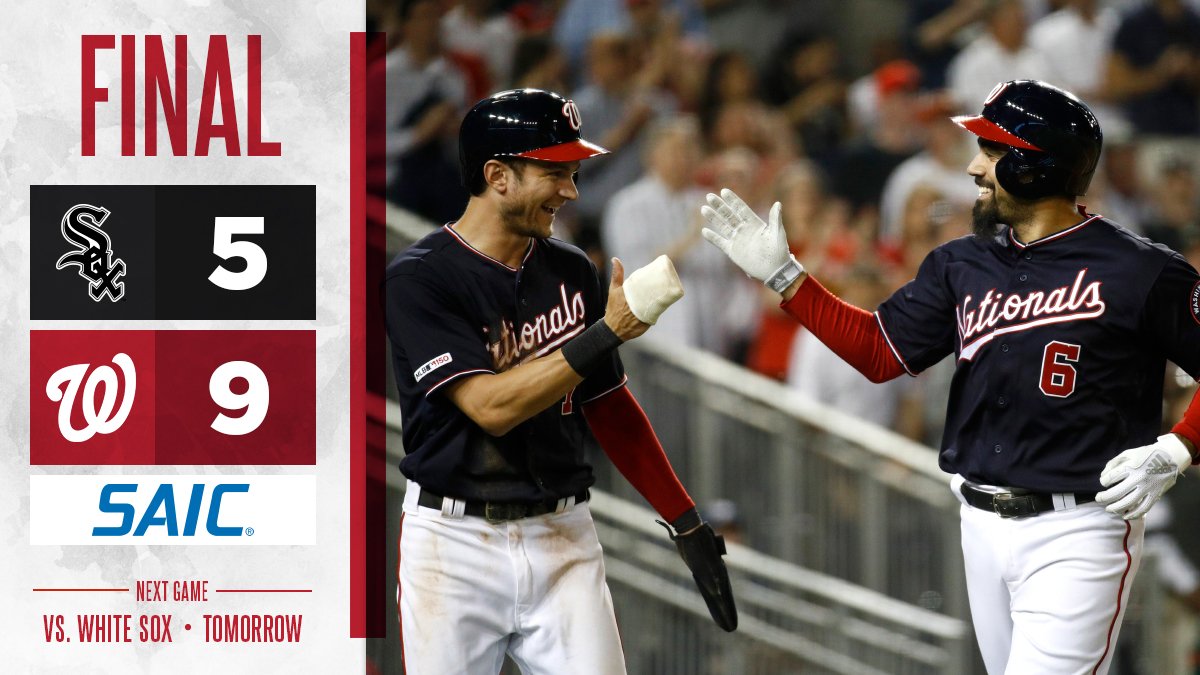 On Monday evening, the Washington Nationals began a four game season series against the Chicago White Sox with a 9-5 win.  The win is the Nationals third win in a row and their eighth win in ten games.  This win improves the Nats record to 27-33 while the White Sox drop to 29-31.
The White Sox started off hot in the first inning scoring four runs and scored their fifth run in the second inning off of White Sox third baseman Yoan Moncada's 458 foot single run home run to right field taking a 5-0 lead over the Nationals.
The Nationals started to make a run after a two run double in the third inning from third baseman Anthony Rendon to make the score 5-2. The Nats would get their first home run of the game in the fourth inning after second baseman Howie Kendrick hit a single run home run to center field cutting the lead to 5-3.
The Nationals hit their stride in fifth inning scoring six runs in the inning including two home runs from Anthony Rendon and center fielder Victor Robles taking the lead and never looking back on their way to victory.
This was a milestone win for Nationals pitcher Stephen Strasburg as it is the 100th win in his career becoming only the third Nationals pitcher to reach the 100 win milestone.
These teams play the second game of their four game series tomorrow at 1:05 p.m. at Nationals Park where the Nats will be looking for their fourth win in a row.
Sources: ESPN, Washington Nationals Twitter