Washington Nationals sweep NLCS; headed to first ever World Series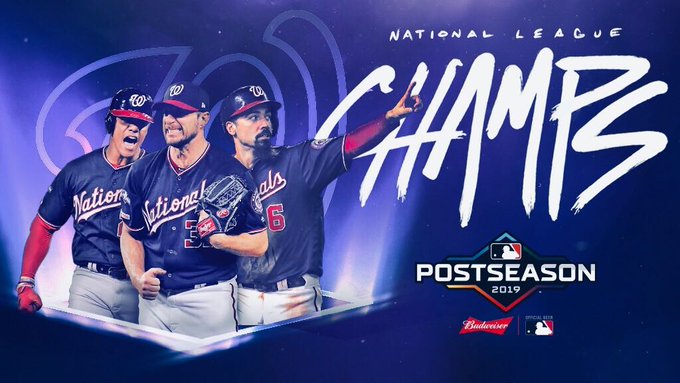 The Washington Nationals get a 7-4 win in game four of the NLCS over the St. Louis Cardinals to sweep the NLCS winning their first NL pennant and secure an appearance in their first World Series in franchise history.
The Nationals came out like a team possessed in the first inning scoring all seven of their runs in the inning. The first run came off a sacrifice fly RBI by third baseman Anthony Rendon then from an RBI double by left fielder Juan Soto. Victor Robles put the third run on the board for the Nats scoring an RBI single. Catcher Yan Gomes scored a two-run RBI single followed by another RBI single by shortstop Trae Turner.
The first inning ended with the Washington Nationals up 7-0. The seven runs scored in the first inning by the Nats are the most runs they have scored in an inning of any game this postseason.
The Cardinals made a bid for a comeback scoring their first run of the game in the fourth inning off a home run by Yadier Molina. They would then score three runs in the fifth inning off RBIs by third baseman/center fielder Tommy Edman and right fielder Jose Martinez respectively. Ultimately, these runs would not be enough as the Nationals would walk away with a 7-4 win.
Nationals second baseman Howie Kendrick was named MVP of the NLCS.
THIS IS HOWIE WIN NLCS MVP. #CLINCHED // #STAYINTHEFIGHT pic.twitter.com/ESKOhtXyb3

— Washington Nationals (@Nationals) October 16, 2019
The Nationals will wait for the winner of the ALCS between the Houston Astros and the New York Yankees. The Astros currently lead the series 2-1 following a 4-1 win in game three of the series.
For the 1st time in franchise history, the Washington Nationals have won the NL pennant!#CLINCHED // #STAYINTHEFIGHT pic.twitter.com/Dnw0zmi1C7

— Washington Nationals (@Nationals) October 16, 2019