Washington Nationals take 2-0 lead in World Series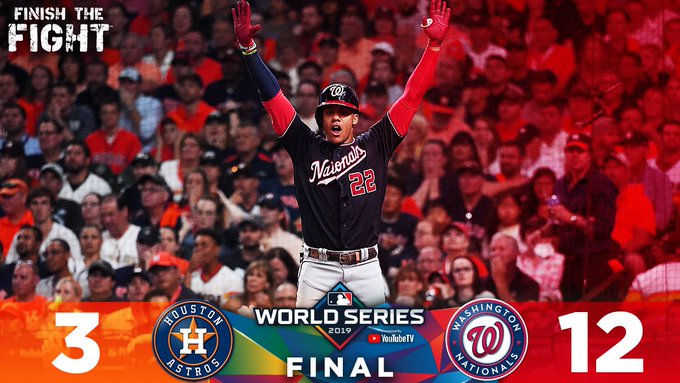 Last night, the Washington Nationals took the second game of the World Series winning 12-3 over the Houston Astros. This is the second straight series the Nationals swept the first two games on the road. This is their sixth straight postseason road win and their eighth straight postseason win overall.
In the first inning, both teams would score two runs with the Nationals scoring off an RBI double by third baseman Anthony Rendon and the Astros scoring off a home run by third baseman Alex Bregman.
Both teams would remain scoreless through the next five innings until the seventh inning where the Nationals would take control of the game.
In the seventh and eighth innings, the Nationals scored nine runs including two home runs by catcher Kurt Suzuki and right fielder Adam Eaton respectively to make the score 11-2 going into the ninth inning.
Following a home run in the ninth inning by Nationals center fielder Michael Taylor, the Astros would only be able to put one run on the board leading to a second straight loss.
The Nationals will look to clinch their first ever World Series as the series shifts to Nationals Park Friday evening. The Astros will look to become the first team since the 1996 New York Yankees to win a World Series after losing the first two home games of the series.