Washington Nationals win games 6 & 7 to become World Series champions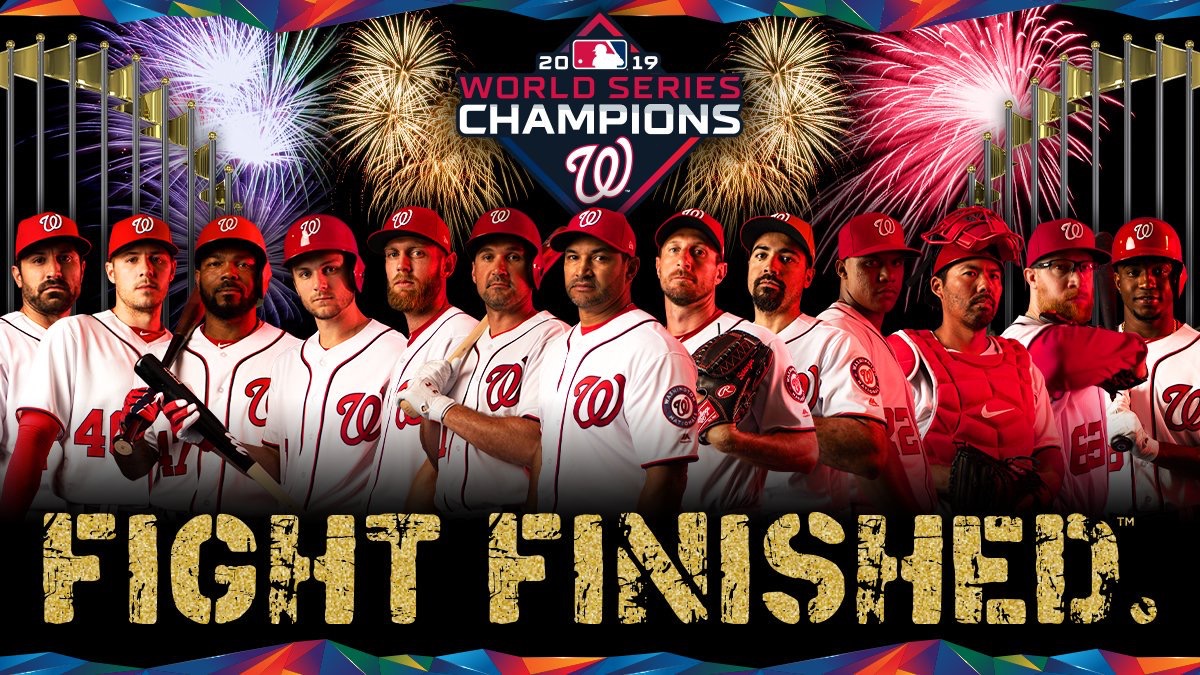 For the first time in franchise history, the Washington Nationals are World Series Champions! This is the first World Series for a MD/DC team since the Baltimore Orioles won in 1983 and the first for a team in DC since 1924 Washington Senators.
The Nationals season did not get off to the best start as at one point they were 19-31 with the second worst record in the National League. They would turn it around finishing the regular season with the best record since their 19-31 start in May 23rd to secure a Wild Card spot in the postseason.
In their Wild Card game against the Milwaukee Brewers down 3-1 in the eighth inning with the bases loaded, Nationals left fielder Juan Soto hit a three run RBI to give them the win and to advance to the Divisional round.
The Nationals would go on to beat the Los Angeles Dodgers, the team with the best record in the amalin the divisional round in five games to advance to the National League Championship Series. This was their first playoff series win since 1981 when they were the Montreal Expos. The Nationals would sweep the St. Louis Cardinals in the NLCS to secure their first ever World Series appearance against the Houston Astros.
The Nationals would win the first two games of the World Series on the road to take a 2-0 lead as the series shifted to their home field. The momentum of winning the first two games of the series did not translate to their home field as the Nats lonsing all three home games to find themselves down 3-2 in the series with the series shifting back to Houston. The Nationals won game six 7-2 to force a series deciding hame seven.
In game seven, down 2-0 through six innings, the Nats would catch fire in the seventh inning scoring three runs to take the lead and they never looked back on their way to a 6-2 win.
The Nationals become the first team to win a World Series winning every game of the series on the road.
This is the third championship for a professional D.C. sports team since 2018. The Washington Capitals won the Stanley Cup Championship in 2018 and the Washington Mystics won this year's WNBA Finals.
Nationals pitcher Stephen Strasburg  was named World Series MVP.
D.C., this one's for you.

The Nationals are bringing home the World Series title for the first time in franchise history 🎉 pic.twitter.com/XJ7iADoEtO

— ESPN (@espn) October 31, 2019
We never stopped believing.

We never stopped dancing.

We STAYED IN THE FIGHT.

We FINISHED THE FIGHT.

And now, we're forever WORLD. SERIES. CHAMPIONS.#STAYINTHEFIGHT pic.twitter.com/7WqNfrDBO9

— Washington Nationals (@Nationals) October 31, 2019
look at us

hey look at us

look at us

who woulda thought pic.twitter.com/uW5IVixhbq

— Washington Nationals (@Nationals) October 31, 2019
T̶h̶e̶ ̶W̶a̶s̶h̶i̶n̶g̶t̶o̶n̶ ̶N̶a̶t̶i̶o̶n̶a̶l̶s̶ ̶h̶a̶v̶e̶ ̶b̶e̶e̶n̶ ̶t̶h̶e̶ ̶b̶e̶s̶t̶ ̶t̶e̶a̶m̶ ̶i̶n̶ ̶b̶a̶s̶e̶b̶a̶l̶l̶ ̶s̶i̶n̶c̶e̶ ̶M̶a̶y̶ ̶2̶4̶.̶

The Washington Nationals are the best team in baseball. Period.#WorldSeries // #STAYINTHEFIGHT pic.twitter.com/KWyPOTbzgo

— Washington Nationals (@Nationals) October 31, 2019